Full name Ashish Bagai
Born January 26, 1982, Delhi, India
Current age 28 years 360 days
Major teams Canada
Batting style Right-hand bat
Fielding position Wicketkeeper
Ashish Bagai Picture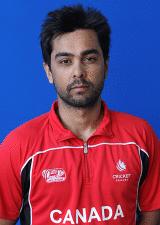 Ashish Bagai Profile
Ashish Bagai is a small, tidy wicketkeeper with good glovework and nimble feet. But it is as a batsman that he has really developed, and his calmness at the crease and ability to penetrate gaps in the field has made him a most effective player in all forms of the game. After coming through youth teams – he played for Canada's Under-19s when only 15 and went on to captain them – he made his debut for the full side in 1999-2000 when still only 17 and in 2001 was a key member of the side which finished third in the I CC Trophy, thus gaining a place at the 2003 World Cup. That tournament was a personal disappointment for Bagai with the bat, if not the gloves, but he developed well with solid rather than spectacular contributions with the bat. All that changed in the World Cricket League in Nairobi in early 2007 when scored 137 not out – his first hundred in senior cricket – against Scotland and added a second ton against Ireland four days later. His 345 runs at 86.25 meant he ended the tournament as the leading run scorer and was named Player of the Tournament. He was then named captain for Canada's Intercontinental Cup Final against Ireland in May. Consistent performances led him to be shortlisted for the inaugural ICC Associate ODI Player of the Year in 2007. But his career appeared to hit a wall with a decision to take a job in the UK later in 2007, making him unavailable, though he maintained good form and became an increasingly reliable batsman when he did play. Appointed captain again in 2009, he later turned his back on a successful banking career in the City of London and accepted a full-time professional contact with the board.
Ashish Bagai Batting, Fielding and Bowling


The above stats are as per date of this post.
Ashish Bagai Career
ODI:
2003-2010
T20:
2008-2010
Ashish Bagai ODI Matches
Debut:
Canada Vs Bangladesh at Kingsmead, Durban – Feb 11, 2003
Last played:
Canada Vs Ireland at Cricket Skating and Curling Club, Toronto – Sep 07, 2010
Ashish Bagai T20 Matches
Debut:
Canada Vs Netherlands – Aug 02, 2008
Last played:
Canada Vs Kenya at Dubai Sports City Cricket Stadium, Dubai – Feb 10, 2010
We Will Update More about Ashish Bagai, Ashish Bagai 100s, Ashish Bagai 50, Ashish Bagai 50s, Ashish Bagai average, Ashish Bagai batting, Ashish Bagai biography, Ashish Bagai bowling, Ashish Bagai children, Ashish Bagai CLT20, Ashish Bagai cricket record, Ashish Bagai family, Ashish Bagai fastest 100, Ashish Bagai fastest century, Ashish Bagai fielding, Ashish Bagai highest score, Ashish Bagai history, Ashish Bagai IPL, Ashish Bagai ODI, Ashish Bagai pictures, Ashish Bagai profile, Ashish Bagai ranking, Ashish Bagai T20, Ashish Bagai Test, Ashish Bagai wife soon. Please Give your feedback regard Ashish Bagai.