25 overs Bangladesh 137 for 2 (Tamim 41*, Shakib 9*) need another 234 runs to beat India 370 for 4 (Sehwag 175, Kohli 100*)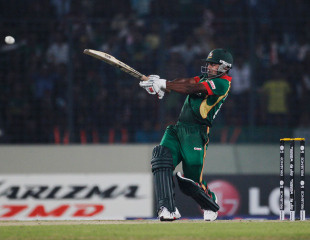 Bangladesh did not go quietly. Their batsmen revived a Mirpur crowd reeling from the Indian onslaught with a spirited chase, but despite their swinging approach, their chances of overhauling the target of 371 were remote. The pitch quickened under lights, making shot-making easier, and the dew made the outfield slick and the ball harder to grip, but Bangladesh's bowlers had conceded far too much ground for their batsmen to make up.
It was Imrul Kayes, and not their leading batsman Tamim Iqbal, that kickstarted Bangladesh's innings. He carved Sreesanth over point and pulled Zaheer through square leg and those shots, combined with a few glances and inside-edges to fine leg, had boosted the score to 28 after four overs. And then Kayes exploded, and Sreesanth lost the plot.
During his first spell, Sreesanth had bowled inswinging yorkers, which both the left-handers somehow survived. The first ball of his fifth over, though, was a wide one that Kayes slashed at and bottom-edged past MS Dhoni to the fine-leg boundary. Sreesanth changed his line of attack, going round the wicket, and over-stepped while bowling a full delivery that Kayes flicked for four. A free-hit followed, and Kayes rocked back to pull towards the boundary, after which he drove a length ball through cover for four more. Sreesanth responded by slanting one so far down leg side that Dhoni couldn't reach it, resulting in five wides. He had conceded 24 off the over and Bangladesh were 51 for 0 after five.
While Zaheer had control over the run-rate at his end, Dhoni had had no option but to take Sreesanth off and bring Munaf Patel into the attack, a move that had immediate results. Kayes tried to force the slower pace of Munaf through the off side and played on, ending the opening partnership at 56.
The momentum, however, did not abate immediately as Junaid Siddique laid into the bowling, hoisting Munaf over the square leg boundary. Yusuf backpedalled, trying to catch it, and ended up crashing into the advertisement hoardings after tripping over the boundary skirting. Yusuf also failed to hold on to a tough chance after Siddique, on 10, had skied Munaf towards midwicket. Tamim then found his fluency and lofted Munaf over mid-on and punched him through cover.
Dhoni brought spin into the attack and Harbhajan Singh and Yusuf slowly but surely reined in the Bangladesh batsmen. Though Tamim and Siddique kept their wickets intact, the rise in dot balls heaped pressure on them. Siddique's dismissal – he was caught short of his crease by Dhoni's quick gloves in the 24th – for 37 further dampened Bangladesh's hopes. The lack of boundaries steadily forced the asking-rate up and at the half-way stage it was 9.36 per over.