Full name Bas Zuiderent
Born March 3, 1977, Utrecht
Current age 33 years 323 days
Batting style Right-hand bat
Bowling style Right-arm medium
Fielding position Occasional wicketkeeper
Bas Zuiderent Picture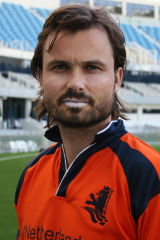 Major teams Netherlands, Sussex, VOC, VRA Cricket
Bas Zuiderent Profile
One of the most technically-able Dutch batsmen of his generation, Bas Zuiderent first came to prominence at the 1996 World Cup by scoring 54 against England as an 18 year old. He has gone on to feature in every World Cup game that his country has played, one of only two players to have done so. He signed for Sussex in 1999, spending 5 years there and was part of the squad that lifted the County Championship in 2003.
Zuiderent didn't play a great deal of international cricket in that period, and after a disappointing run at the 2003 World Cup it appeared that he might never build on the potential he showed in his youth. But with increasing age he has matured into a very steady middle-order batsman, and his unbeaten 116 against the United Arab Emirates in the 2005 ICC Trophy secured World Cup qualification for Netherlands as they scraped through in 5th place. He was the tournament's leading scorer that year with 474 runs and, in the World Cricket League in Kenya in 2007, he averaged 50.25 as the Netherlands continued their improvement to finish third.
Zuiderent was part of the side that shocked England at the World Twenty20 opener in 2009 and now, in his 30s, he is a permanent fixture in Netherlands' middle order and is set to compete in his fourth World Cup in 2011.
Bas Zuiderent Career
ODI:
1996-2010
T20:
2009-2010
Bas Zuiderent ODI Matches
Debut:
Netherlands Vs New Zealand at I.P.C.L. Sports Complex Ground, Vadodara (Baroda) – Feb 17, 1996
Last played:
Netherlands Vs Ireland at Castle Avenue, Dublin – Aug 18, 2010
Bas Zuiderent T20 Matches
Debut:
Netherlands Vs England at Lord's, London – Jun 05, 2009
Last played:
Netherlands Vs Ireland at Dubai Sports City Cricket Stadium, Dubai – Feb 13, 2010.
More updates about Bas Zuiderent, Bas Zuiderent profile, Bas Zuiderent biography, Bas Zuiderent history, Bas Zuiderent cricket record, Bas Zuiderent highest score, Bas Zuiderent 100s, Bas Zuiderent 50s, Bas Zuiderent fastest century, Bas Zuiderent 50, Bas Zuiderent fastest 100, Bas Zuiderent pictures, Bas Zuiderent ranking, Bas Zuiderent batting, Bas Zuiderent bowling, Bas Zuiderent fielding, Bas Zuiderent average, Bas Zuiderent wife, Bas Zuiderent family, Bas Zuiderent children, Bas Zuiderent IPL, Bas Zuiderent CLT20, Bas Zuiderent T20, Bas Zuiderent ODI, Bas Zuiderent Test will be shared soon. You can also share your comments about Bas Zuiderent.