Full name Ed Joyce
Born September 22, 1978, Dublin
Current age 32 years 121 days
Major teams England, Ireland, England Lions, Marylebone Cricket Club, Middlesex, Sussex
Nickname Joycey, Spud, Piece
Batting style Left-hand bat
Bowling style Right-arm medium
Height 5 ft 10 in
Education Presentation College (Bray), Trinity College, Dublin
Relation Brother – A Joyce, Brother – DI Joyce, Sister – CNIM Joyce, Sister – IMHC Joyce
Ed Joyce Picture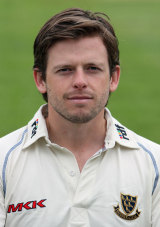 Ed Joyce Profile
An Irishman who always held ambitions to play at the very highest level, Ed Joyce was an important part of Middlesex's middle-order for a decade from his debut in 1999. Born in Dublin, and from a large family with four brothers and four sisters, Joyce was a star for Ireland at ICC Trophy level, scoring 758 runs in 14 matches between 2001 and 2005, at an average of 84.22. However, he completed his English residency qualification in 2005, and made his one-day debut against Ireland in 2006 before seemingly cementing his place with good performances in Australia and then against lesser opponents in the 2007 World Cup, although questions began to be raised about his fluency and he was discarded after England's dismal tournament. His county form was not enough to push his claims for a recall, and after an unhappy 2008 he severed his ties with Middlesex and moved south to Sussex where he revived his career with a prolific one-day season. He continued to develop as a batsman at Hove, averaging in the 40s in both first-class and limited-overs cricket in 2010. In the meantime, he also made clear his intentions to return to an international career with Ireland. He was named in an Irish pre-World Cup touring squad in October 2010 – more than five years after his last outing for Ireland – and shortly afterwards was granted special dispensation by the ICC to represent his country of birth at the tournament in February 2011.
Ed Joyce Career
ODI:
2006-2007
T20:
2006-2007
CLT20:
2009-2009
Ed Joyce ODI Matches
Debut:
England Vs Ireland at Civil Service Cricket Club, Stormont, Belfast – Jun 13, 2006
Last played:
England Vs Sri Lanka at Sir Vivian Richards Stadium, St Peter's, Antigua – Apr 04, 2007
Ed Joyce T20 Matches
Debut:
England Vs Sri Lanka at The Rose Bowl, Southampton – Jun 15, 2006
Last played:
England Vs Australia at Sydney Cricket Ground (SCG), Sydney – Jan 09, 2007.
More updates about Ed Joyce, Ed Joyce profile, Ed Joyce biography, Ed Joyce history, Ed Joyce cricket record, Ed Joyce highest score, Ed Joyce 100s, Ed Joyce 50s, Ed Joyce fastest century, Ed Joyce 50, Ed Joyce fastest 100, Ed Joyce pictures, Ed Joyce ranking, Ed Joyce batting, Ed Joyce bowling, Ed Joyce fielding, Ed Joyce average, Ed Joyce wife, Ed Joyce family, Ed Joyce children, Ed Joyce IPL, Ed Joyce CLT20, Ed Joyce T20, Ed Joyce ODI, Ed Joyce Test will be shared soon. You can also share your comments about Ed Joyce.