Full name Jamie How
Born May 19, 1981, New Plymouth, Taranaki
Current age 29 years 247 days
Major teams New Zealand, Central Districts
Batting style Right-hand bat
Bowling style Right-arm medium, Right-arm offbreak
Jamie How Picture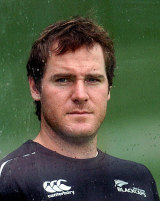 Jamie How Profile
Jamie How stepped up to the full New Zealand side in 2004-05 after some solid performances for Central Districts – 704, 682 and 592 runs in the three seasons from 2002-03. A well-organised opener, more of an accumulator than a dasher, How has a penchant for big scores: after taking a while to find his first-class feet, he scored 163 not out and 158 in consecutive innings in March 2003, against Northern Districts and Canterbury, and started the following season with 169 against Otago. Picked for his one-day debut against Sri Lanka at Queenstown on New Year's Eve, 2005, How ensured his celebrations would go well with a sparky 58, including eight fours and a six, as New Zealand won easily. His first encounter with West Indies resulted in 66 of an opening stand of 136 with Nathan Astle, but his other four one-day innings brought him only 17 runs. He played all three Tests against West Indies, and one in South Africa in May 2006 as a late replacement for the injured Peter Fulton. The rampant Dale Steyn removed him cheaply in both innings in that Test at Johannesburg. He retained his national contract for 2007-08 and found one-day form with scores of 90 and 76 on the South Africa tour before making 88 and 74 from consecutive innings against Bangladesh. A brilliant century followed against England in Napier to suggest his breakthrough as an international batsman although his Test performances remain inconsistent. He stood in as captain at the start of the England tour when Daniel Vettori was at the IPL, and led Central Districts to victory in the HRV Cup, New Zealand's domestic Twenty20 tournament, in 2009-10.
Fast Facts
* He is one of only seven Kiwis to have scored a half century on ODI debut.
* His 139 vs England in 2008 was the seventh highest score by a Kiwi in ODIs and the highest by a New Zealander against England.
* He was Central Districts highest run-getter in the 2010 T20 Champions League tournament.
* He was the highest run-getter from both sides in a three match ODI series against Zimbabwe in December 2007.
* He led Central Districts to victory in 2009-10 HRV Cup, the premier domestic T20 tournament in New Zealand.
Jamie How Batting, Fielding and Bowling


The above stats are as per date of this post.
Jamie How Career
Test:
2006-2009
ODI:
2005-2010
T20:
2007-2008
CLT20:
2010-2010
Jamie How Test Matches
Debut:
New Zealand Vs West Indies at Eden Park, Auckland – Mar 09, 2006
Last played:
New Zealand Vs India at McLean Park, Napier – Mar 26, 2009
Jamie How ODI Matches
Debut:
New Zealand Vs Sri Lanka at Queenstown Events Centre, Queenstown – Dec 31, 2005
Last played:
New Zealand Vs India at MA Chidambaram Stadium (Chepauk), Chennai (Madras) – Dec 10, 2010
Jamie How T20 Matches
Debut:
New Zealand Vs South Africa at New Wanderers Stadium, Johannesburg – Nov 23, 2007
Last played:
New Zealand Vs England at Old Trafford, Manchester – Jun 13, 2008
Jamie How CLT20 Matches
Debut:
Central Stags Vs Chennai Super Kings at Kingsmead, Durban – Sep 11, 2010
Last played:
Central Stags Vs Wayamba Elevens at St George's Park, Port Elizabeth – Sep 22, 2010
More updates about Jamie How, Jamie How profile, Jamie How biography, Jamie How history, Jamie How cricket record, Jamie How highest score, Jamie How 100s, Jamie How 50s, Jamie How fastest century, Jamie How 50, Jamie How fastest 100, Jamie How pictures, Jamie How ranking, Jamie How batting, Jamie How bowling, Jamie How fielding, Jamie How average, Jamie How wife, Jamie How family, Jamie How children, Jamie How IPL, Jamie How CLT20, Jamie How T20, Jamie How ODI, Jamie How Test will be shared soon. You can also share your comments about Jamie How.