Full name Jesse Ryder
Born August 6, 1984, Masterton, Wellington
Current age 26 years 168 days
Major teams Ireland, New Zealand, Central Districts, New Zealand A, New Zealand Under-19s, Royal Challengers Bangalore, Wellington
Batting style Left-hand bat
Bowling style Right-arm medium
Education Napier Boys High
Jesse Ryder Picture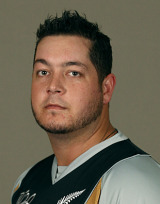 Jesse Ryder Profile
Jesse Ryder's troubled upbringing and weight issues have been well documented. A hard-hitting batsman and useful seamer, he seemed to have an international career with New Zealand ahead of him after a successful start to his first-class career and call-ups to the A team. However, he was continually overlooked for the national squad and refused to attend a training camp for a 30-man World Cup squad. His image as a bit of a wild-boy didn't help, but later in 2007 he told the selectors he wouldn't be available for the New Zealand A tour of Australia after signing as one of Ireland's overseas players. That relationship was brief, ending after three weeks when he failed to turn up for a match against Surrey. He finally got his wish of a national call-up in January 2008, when he was named in the ODI and Twenty20 squads to take on England and he quickly showed that he has the potential to be an explosive opening batsman – and he's a useful occasional medium-pacer as well. Ryder impressed with 196 runs at 49 in the five ODIs against England but ruined his chances of a trip for the return series by putting a hand through a glass window, after an evening of apparent drinking. The action came down for heavy criticism from New Zealand Cricket and Ryder was expected to be out for three months. However, the selectors showed faith in him with a national contract for 2008-09, and was selected in New Zealand's one-day squad for their tour of England, but Ryder was still injured and left on the sidelines. He had to wait till the tour of Bangladesh for his comeback and made his Test debut in the Chittagong Test. The selectors' faith was rewarded when he scored his maiden Test century – albeit in a losing cause – against India at Hamilton in March 2009, and followed up with an accomplished 201 in the second Test of the series at Napier. His accomplishments earned him an IPL contract with the Royal Challengers Bangalore that year.
Fast Facts
* Ryder along with McCullum share New Zealand's highest ever partnership(165) against England in ODIs
* His century which came of just 72 deliveries against India is currently the third fastest century by a New Zealander in ODIs.
* He was also awarded the 'Redpath Cup' in 2009, an award for the best Kiwi batsman in a domestic season.
* He is the second youngest New Zealander to score a double hundred in Test cricket.
* He is also only the fourth left handed New Zealander to have hit a double century in Test cricket.
* He was the highest run getter for New Zealand in both Tests and ODIs against India at home in 2009.
* He also holds New Zealand's record fourth wicket partnership (271) with Ross Taylor in Tests.
Jesse Ryder Batting, Fielding and Bowling


The above stats are as per date of this post.
Jesse Ryder Career
Test:
2008-2011
ODI:
2008-2010
T20:
2008-2010
IPL:
2009-2009
Jesse Ryder Test Matches
Debut:
New Zealand Vs Bangladesh at Chittagong Divisional Stadium, Chittagong – Oct 17, 2008
Last played:
New Zealand Vs Pakistan at Basin Reserve, Wellington – Jan 15, 2011
Jesse Ryder ODI Matches
Debut:
New Zealand Vs England at WestpacTrust Stadium,Wellington – Feb 09, 2008
Last played:
New Zealand Vs Bangladesh at Shere Bangla National Stadium, Dhaka – Oct 17, 2010
Jesse Ryder T20 Matches
Debut:
New Zealand Vs England at Eden Park, Auckland – Feb 05, 2008
Last played:
New Zealand Vs Pakistan at AMI Stadium, Christchurch – Dec 30, 2010
Jesse Ryder IPL20 Matches
Debut:
Royal Challengers Bangalore Vs Rajasthan Royals at Newlands, Cape Town – Apr 18, 2009
Last played:
Royal Challengers Bangalore Vs Kolkata Knight Riders at SuperSport Park, Centurion – May 12, 2009
More updates about Jesse Ryder, Jesse Ryder profile, Jesse Ryder biography, Jesse Ryder history, Jesse Ryder cricket record, Jesse Ryder highest score, Jesse Ryder 100s, Jesse Ryder 50s, Jesse Ryder fastest century, Jesse Ryder 50, Jesse Ryder fastest 100, Jesse Ryder pictures, Jesse Ryder ranking, Jesse Ryder batting, Jesse Ryder bowling, Jesse Ryder fielding, Jesse Ryder average, Jesse Ryder wife, Jesse Ryder family, Jesse Ryder children, Jesse Ryder IPL, Jesse Ryder CLT20, Jesse Ryder T20, Jesse Ryder ODI, Jesse Ryder Test will be shared soon. You can also share your comments about Jesse Ryder.