Full name Jimmy Kamande
Born December 12, 1978, Muranga
Current age 32 years 40 days
Major teams Kenya, Nairobi Gymkhana
Batting style Right-hand bat
Bowling style Right-arm offbreak
Jimmy Kamande Picture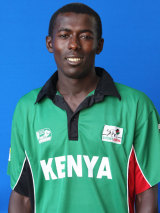 Jimmy Kamande Profile
Jimmy Kamande's early progress was seamless, via the Under-19 World Cup into the full squad in time for the 1999 World Cup, but there he fell foul of the authorities after being reported for having a suspect action. Undeterred, Kamande went away and reinvented himself as an offspinner, and after initial scepticism he showed that he was worth his place in that role, and he is now almost an allrounder. Not a big man, he gets considerable bounce and turn and possesses a good quicker ball, with not a hint of the action that got him into trouble. Though he initially struggled to cement a role with either bat or ball in the senior side Kamande has since become a regular contributor with both bat and ball, particularly in limited-overs cricket. He succeeded Maurice Ouma as national captain in late 2010, inheriting a side in transition which was struggling to remain at the forefront of Associate cricket.
Jimmy Kamande Career
ODI:
1999-2010
T20:
2007-2010
Jimmy Kamande ODI Matches
Debut:
Kenya Vs Zimbabwe at County Ground, Taunton – May 15, 1999
Last played:
Kenya Vs Afghanistan at Nairobi Gymkhana Club Ground, Nairobi – Oct 11, 2010
Jimmy Kamande T20 Matches
Debut:
Kenya Vs Bangladesh at Nairobi Gymkhana Club Ground, Nairobi – Sep 01, 2007
Last played:
Kenya Vs Netherlands at Sheikh Zayed Stadium, Abu Dhabi – Feb 11, 2010.