Full name John Davison
Born May 9, 1970, Campbell River, Vancouver Island, British Columbia
Current age 40 years 257 days
Major teams Canada, South Australia, Victoria
Also known as Davo
Batting style Right-hand bat
Bowling style Right-arm offbreak
Other Coach
John Davison Picture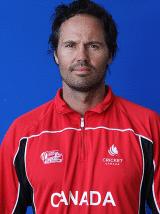 John Davison Profile
John Davison is a middle-order batsman and right-arm spinner who has been at the heart of the Canadian national side for almost a decade. Born in British Colombia, he moved to Australia as a child, playing grade cricket in Melbourne and attending the Australian Cricket Academy in 1993. he was a member of the Victoria state squad for several years but was unable to secure a regular first-team slot and after being released by them he joined South Australia in 2002-03. In 1999 he was approached to spend his off-season in Canada as a player-coach, and he was soon drafted into the national side. He played in the Canadian side that finished third in the 2001and 2005 ICC Trophies, but he hit the headlines in the 2003 World Cup when he stunned the West Indies with the fastest World Cup century in history, clubbing half a dozen sixes in a brilliant 111. He followed this up with the third-fastest World Cup fifty against New Zealand, making most runs and taking most wickets for Canada in the tournament. He was appointed Canada's captain in 2004 and the following year, in their first first-class match for more than half a century, he created history by taking 17 for 137, the best since Jim Laker in 1956, and hitting 84 as Canada beat USA by 104 runs in the Intercontinental Cup. He played his last game for South Australia in 2004-05 and since then has devoted his time to Canada. A bristling 52 from 31 balls against New Zealand in the 2007 World Cup underlined his class.
John Davison Batting, Fielding and Bowling


The above stats are as per date of this post.
John Davison Career
ODI:
2003-2009
T20:
2008-2010
John Davison ODI Matches
Debut:
Canada Vs Bangladesh at Kingsmead, Durban – Feb 11, 2003
Last played:
Canada Vs Scotland – Apr 08, 2009
John Davison T20 Matches
Debut:
Canada Vs Netherlands – Aug 02, 2008
Last played:
Canada Vs Kenya at Dubai Sports City Cricket Stadium, Dubai – Feb 10, 2010
We Will Update More about John Davison, John Davison 100s, John Davison 50, John Davison 50s, John Davison average, John Davison batting, John Davison biography, John Davison bowling, John Davison children, John Davison CLT20, John Davison cricket record, John Davison family, John Davison fastest 100, John Davison fastest century, John Davison fielding, John Davison highest score, John Davison history, John Davison IPL, John Davison ODI, John Davison pictures, John Davison profile, John Davison ranking, John Davison T20, John Davison Test, John Davison wife soon. Please Give your feedback regard John Davison.