Jason Krejza knows better than most that bowling spin for Australia can be a short-term vocation, so he's determined to make the best of his unexpected second calling. Two years after he took 12 wickets on his Test debut only to be dropped one match later, Krejza has the chance to show off his one-day skills, after being named in the squad for the final ODI against England.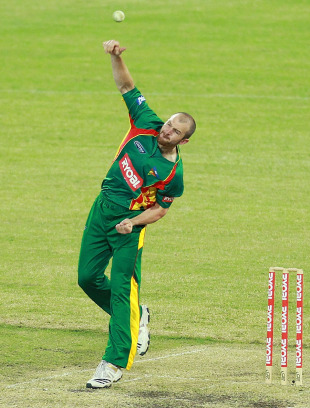 His opportunity has only arrived because Nathan Hauritz dislocated his shoulder and is in doubt for the World Cup, Xavier Doherty is suffering from back pain and Steven Smith has a hip injury. But however it has come, Krejza is thrilled at the chance to once again represent his country, which could yet turn into a World Cup dream if the injuries to the others persist.
"It's a complete surprise, full-stop," Krejza told ESPNcricinfo of his call-up. "Hopefully I get the opportunity. Playing one-day cricket has been at the top of my list as the next thing to do, and it's finally come around. I'm trying not to think about [the World Cup]. It might only come through injuries to other people, which is never good. There's a slim chance but I'm not holding my breath."
For the time being, Krejza is focused solely on Sunday's series finale at the WACA, where he last played for Australia in late 2008, taking match figures of 1 for 204 in a record defeat at the hands of South Africa. After that, the selectors preferred spinners who could tie up an end rather than overly attacking options, which meant Krejza had to go back to Tasmania and adjust his game to have any hope of an international return.
"Waiting for the right moments to attack, that's the thing that I've worked out," Krejza said. "I was always attack, attack, attack, but now I've been bringing it back a notch and having a defensive mindset and being patient and being happy doing that for a while and waiting for that opportunity to attack again.
"[The WACA] has become pretty good for spinners, although of course it could be a complete road again and not spin at all. But you've got the breeze there and it's a big ground sideways. It's a tough ground to bowl at but if you bowl well, you've got the bounce and you can pick up wickets."
Whatever happens in Perth, at least Krejza knows that the selectors hadn't drawn a line through his name, as seems to be the case with some other players. And at 28, he still has plenty of years left to push for further chances in Australian colours, or whites.
"If you play really good cricket, things can happen in quite a rush," he said. "That's happened for a few players, Doherty did the same thing, got a few wickets and it all came in a rush. It's still my dream to put that baggy green back on but I just have to concentrate on this game and play each game as if it could be my last."