Full name Kyle Mills
Born March 15, 1979, Auckland
Current age 31 years 312 days
Major teams New Zealand, Auckland, Kings XI Punjab, Lincolnshire, Mumbai Indians
Playing role Bowler
Batting style Right-hand bat
Bowling style Right-arm fast-medium
Kyle Mills Picture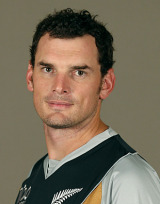 Kyle Mills Profile
Injuries at an inopportune time affected Kyle Mills's prospects of making a more significant start to his international career. While he was recovering, Shane Bond, Ian Butler and Jacob Oram seized their opportunities, making it harder for Mills to force his way back. In and out of the team after the 2003 World Cup in which he made only one fleeting, wicketless appearance – he marked another comeback, against Pakistan in 2003-04, by picking up a reprimand for excessive appealing. However, he did enough to earn a call-up for the tour of England in 2004, and made his Test debut in the third match at Trent Bridge. But he picked up a side strain during the game, and was forced to fly home and miss the NatWest Series. That was a shame, as one-day cricket is really his forte: he played throughout the 2005-06 season, chipping in with wickets in almost every game, even if his once-promising batting had diminished to the point that he managed double figures only once in 16 matches. A feisty temper remains, though: Stephen Fleming had to pull him away from Graeme Smith during a bad-tempered one-day series towards the end of 2005. Mills returned to South Africa for the Tests early in 2006, and picked up eight wickets in the two matches he played, almost doubling his career tally. He played in the 2006 Champions Trophy, but his injury jinx struck again and he was ruled out of the 2007 World Cup with a serious knee problem.
Fast Facts
* Kyle Mills is the 4th most successful Kiwi bowler in ODIs.
* He is one of only three New Zealand bowlers to have taken 4 or more wickets in an ODI 8 times.
* His 5-25 is currently the seventh best bowling figures for a New Zealander in ODIs.
* Mills is only one of three Kiwi bowlers to have an average of less than 27 after bowling in more than 100 ODI innings.
* At the end of the ICC Champions Trophy in 2009, Mills was the number one bowler in ODIs in the world.
* Mills was adjudged 'Man of the Series' in the 2007 away ODI series against South Africa even though New Zealand ended up on the losing side.
* He is nearing 450 wickets in first class and List A cricket combined together.
* As of 2010, for a Black Caps' player who has taken more than 150 wickets in ODIs, he has the best strike rate.
* From New Zealand he was the fastest to reach the 150-wicket milestone in ODIs at the end of just 103 games.
* Kyle Mills has also taken a match haul of 10 wickets once in domestic cricket.
Kyle Mills Batting, Fielding and Bowling


The above stats are as per date of this post.
Kyle Mills Career
Test:
2004-2009
ODI:
2001-2010
T20:
2005-2010
Kyle Mills Test Matches
Debut:
New Zealand Vs England at Trent Bridge, Nottingham – Jun 10, 2004
Last played:
New Zealand Vs India at Seddon Park, Hamilton – Mar 18, 2009
Kyle Mills ODI Matches
Debut:
New Zealand Vs Pakistan at Sharjah Cricket Association Stadium, Sharjah – Apr 15, 2001
Last played:
New Zealand Vs India at MA Chidambaram Stadium (Chepauk), Chennai (Madras) – Dec 10, 2010
Kyle Mills T20 Matches
Debut:
New Zealand Vs Australia at Eden Park, Auckland – Feb 17, 2005
Last played:
New Zealand Vs Pakistan at AMI Stadium, Christchurch – Dec 30, 2010
Kyle Mills CLT20 Matches
Debut:
Otago Volts Vs Cape Cobras at Rajiv Gandhi International Stadium, Hyderabad – Oct 10, 2009
Last played:
Otago Volts Vs Royal Challengers Bangalore at M. Chinnaswamy Stadium, Bangalore – Karnataka – Oct 12, 2009
More updates about Kyle Mills, Kyle Mills profile, Kyle Mills biography, Kyle Mills history, Kyle Mills cricket record, Kyle Mills highest score, Kyle Mills 100s, Kyle Mills 50s, Kyle Mills fastest century, Kyle Mills 50, Kyle Mills fastest 100, Kyle Mills pictures, Kyle Mills ranking, Kyle Mills batting, Kyle Mills bowling, Kyle Mills fielding, Kyle Mills average, Kyle Mills wife, Kyle Mills family, Kyle Mills children, Kyle Mills IPL, Kyle Mills CLT20, Kyle Mills T20, Kyle Mills ODI, Kyle Mills Test will be shared soon. You can also share your comments about Kyle Mills.