Full name Martin Guptill
Born September 30, 1986, Auckland
Current age 24 years 113 days
Major teams New Zealand, Auckland, New Zealand Academy, New Zealand Under-19s
Batting style Right-hand bat
Bowling style Right-arm offbreak
Martin Guptill Picture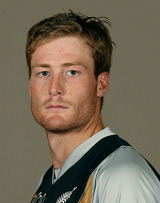 Martin Guptill Profile
Few players in world cricket play the short-arm pull on one leg with elegance like Martin Guptill. A right-handed top order batsman, Guptill made an immediate impact on the international scene, scoring 122 in a ODI against West Indies, the second-highest score by a debutant. He gained recognition in the 2007-08 season, topping the overall State Shield run-charts with 596 runs at 59.60. His efforts took Auckland to the final, which they eventually lost to Otago. He carried his purple patch into the Emerging Players tournament in Australia, finishing the highest scorer there as well for New Zealand with 280 runs. That earned him a call-up to the A side and then to the ODI and Test squads. He was promoted to open in Tests and it's a role he's getting accustomed to. An area he needs to work on is his consistency, given his tendency to throw his wicket away after getting a start. However, he has the gift of timing and on his day, can be a purist's delight. Guptill's success is particularly remarkable as he has only two toes on one of his feet as the result of a forklift accident a few years ago.
Fast Facts
* He is the first Kiwi player to have hit a century on ODI debut and his 122 is the record second highest score on debut as of 2010.
* He is the first player from New Zealand to carry his bat through an ODI innings, a feat which he achieved in his debut game.
* With 596 runs at an average of 59.60, he was the leading run-getter in the 2007-08 'State Shield Championship'.
* In just his 9th Test match, Guptill scored 189 runs, falling 11 short of an unprecedented first double century.
Martin Guptill Batting, Fielding and Bowling


The above stats are as per date of this post.
Martin Guptill Career
Test:
2009-2011
ODI:
2009-2010
T20:
2009-2010
Martin Guptill Test Matches
Debut:
New Zealand Vs India at Seddon Park, Hamilton – Mar 18, 2009
Last played:
New Zealand Vs Pakistan at Basin Reserve, Wellington – Jan 15, 2011
Martin Guptill ODI Matches
Debut:
New Zealand Vs West Indies at Eden Park, Auckland – Jan 10, 2009
Last played:
New Zealand Vs India at MA Chidambaram Stadium (Chepauk), Chennai (Madras) – Dec 10, 2010
Martin Guptill T20 Matches
Debut:
New Zealand Vs Australia at Sydney Cricket Ground (SCG), Sydney – Feb 15, 2009
Last played:
New Zealand Vs Pakistan at AMI Stadium, Christchurch – Dec 30, 2010
More updates about Martin Guptill, Martin Guptill profile, Martin Guptill biography, Martin Guptill history, Martin Guptill cricket record, Martin Guptill highest score, Martin Guptill 100s, Martin Guptill 50s, Martin Guptill fastest century, Martin Guptill 50, Martin Guptill fastest 100, Martin Guptill pictures, Martin Guptill ranking, Martin Guptill batting, Martin Guptill bowling, Martin Guptill fielding, Martin Guptill average, Martin Guptill wife, Martin Guptill family, Martin Guptill children, Martin Guptill IPL, Martin Guptill CLT20, Martin Guptill T20, Martin Guptill ODI, Martin Guptill Test will be shared soon. You can also share your comments about Martin Guptill.