Full name Michael Hussey
Born October 18, 1981, Wondai, Queensland
Current age 29 years 94 days
Nickname Ritzy
Playing role Bowler
Batting style Right-hand bat
Bowling style Right-arm offbreak
Height 1.82 m
Michael Hussey Picture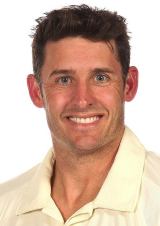 Major teams Australia, New South Wales, Queensland
Michael Hussey Profile
An accumulator who is virtually impossible to distract at the crease, Michael Hussey waited a decade before becoming an overnight star. Others might have given up, or at least relaxed, during all that time in the backblocks of the Sheffield Shield and County Championship, but Hussey maintained the intensity and was soon living in a statistical world occupied by few others. After two years in the Test side his average rose to 86.18; it had already taken 29 ODIs for his mean to drop below 100. In just 166 days he become the fastest player to 1000 Test runs, but he was reluctant to dwell on the records because he knew the sky-high ride wouldn't last.
He was right and the recession hit hard in 2008-09. Despite being forced to battle for runs and his spot in the various teams, he continued to talk cheerfully and walk quickly. As a batsman he is old fashioned, preferring to work and caress the ball, especially through cover with a crisp drive. There are times when he breaks free – batting with the No.11 or in the final stages of a limited-overs innings – and in that mood he can pull ferociously, but mostly he travels at a safe speed. If they let him, he would bat for a week without becoming bored.
Having grown up as a specialist opener, he has spent most of his time in the middle order with Australia and hasn't complained. His team ethic is on display in the field, where he is a reliable catcher at gully and a regular encourager, and he is scrupulous at practice. The overall attitude earned him the Mr Cricket nickname, a moniker of fun and extreme respect.
Fast Facts
* He has captained the Queensland Under-14 and Australia Under-19 sides.
* He took 5 wickets in his debut Test.
* He was the highest wicket-taker for Australia (18) in their three test series against Pakistan in 2009-10.
* By the time he had played 15 test matches, his career average was nearly 4 wickets per test.
Michael Hussey Batting, Fielding and Bowling


The above stats are as per date of this post.
Michael Hussey Career
Test:
2004-2010
ODI:
2002-2010
T20:
2009-2009
CLT20:
2009-2009
Michael Hussey Test Matches
Debut:
Australia Vs India at Wankhede Stadium, Mumbai (Bombay) – Nov 03, 2004
Last played:
Australia Vs India at M. Chinnaswamy Stadium, Bangalore – Karnataka – Oct 09, 2010
Michael Hussey ODI Matches
Debut:
Australia Vs South Africa at New Wanderers Stadium, Johannesburg – Mar 22, 2002
Last played:
Australia Vs Sri Lanka at Sydney Cricket Ground (SCG), Sydney – Nov 05, 2010
Michael Hussey T20 Matches
Debut:
Australia Vs Pakistan at Dubai Sports City Cricket Stadium, Dubai – May 07, 2009
Last played:
Australia Vs England at Old Trafford, Manchester – Aug 30, 2009
Michael Hussey IPL Matches
Debut:
Kolkata Knight Riders Vs Royal Challengers Bangalore at M. Chinnaswamy Stadium, Bangalore – Karnataka – Apr 18, 2008
Last played:
Kolkata Knight Riders Vs Mumbai Indians at Eden Gardens, Kolkata (Calcutta) – Apr 29, 2008
Michael Hussey CLT20 Matches
Debut:
New South Wales Blues Vs Diamond Eagles at Feroz Shah Kotla, Delhi – Oct 09, 2009
Last played:
New South Wales Blues Vs Trinidad and Tobago at Rajiv Gandhi International Stadium, Hyderabad – Oct 23, 2009
More updates about Michael Hussey, Michael Hussey profile, Michael Hussey biography, Michael Hussey history, Michael Hussey cricket record, Michael Hussey highest score, Michael Hussey 100s, Michael Hussey 50s, Michael Hussey fastest century, Michael Hussey 50, Michael Hussey fastest 100, Michael Hussey pictures, Michael Hussey ranking, Michael Hussey batting, Michael Hussey bowling, Michael Hussey fielding, Michael Hussey average, Michael Hussey wife, Michael Hussey family, Michael Hussey children, Michael Hussey IPL, Michael Hussey CLT20, Michael Hussey T20, Michael Hussey ODI, Michael Hussey Test will be shared soon. You can also share your comments about Michael Hussey.