Full name Mitchell Johnson
Born October 18, 1981, Wondai, Queensland
Current age 29 years 94 days
Nickname Ritzy
Playing role Bowler
Batting style Right-hand bat
Bowling style Right-arm offbreak
Height 1.82 m
Mitchell Johnson Picture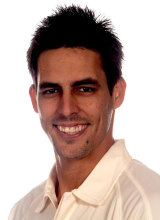 Major teams Australia, New South Wales, Queensland
Mitchell Johnson Profile
Mitchell Johnson remains a once in a generation bowler more than a decade after he was first spotted by Dennis Lillee as a 17-year-old. No other fast man has been able to copy his successful left-arm method that mixes bouts of waywardness with spot-on strike-power. Off the field he is so shy that it is hard to believe he has taken on the role as Australia's chief marksman, a weapon capable of hitting batsmen and 155kph.
An athlete who started out preferring tennis, Johnson was late to focus on cricket and suffered early in his career with four back stress fractures that almost floored him for good. He persevered, driving a plumbing van when he lost his Queensland contract, and became only the fourth Australian left-arm paceman to pass 100 Test wickets. With a strong, flowing run to the crease, Johnson can become mechanical in delivery, especially if his wrist, a long-term concern, is in the wrong position. When it's bad, he sprays the ball on both sides of the wicket like an old-fashioned firebrand. When it's perfect, there is probably no better bowler in the game.
The late swing at pace is a major problem, along with sharp bounce, and sometimes it's just the angle across the batsmen that undoes them. South Africa suffered the most brutal spells in 2008-09 while England's run-makers enjoyed his wonkiest ones during the 2009 Ashes. Whatever his mood, he has become a must-have for Ricky Ponting since debuting in 2007 – and that's before considering his batting.
Johnson's belief in his run-making is so strong that he would like to open in Twenty20s or one-dayers in the future, and he will always be able to claim his Test average was 99.00 after five games. His style is smooth enough for a specialist and when he nails a big swing it looks as effortless as Ernie Els on the golf course. The owner of a Test hundred and a 96, both against the might of South Africa, he will be mildly miffed if he doesn't finish his career as a genuine allrounder.
Fast Facts
* He has captained the Queensland Under-14 and Australia Under-19 sides.
* He took 5 wickets in his debut Test.
* He was the highest wicket-taker for Australia (18) in their three test series against Pakistan in 2009-10.
* By the time he had played 15 test matches, his career average was nearly 4 wickets per test.
Mitchell Johnson Batting, Fielding and Bowling


The above stats are as per date of this post.
Mitchell Johnson Career
Test:
2004-2010
ODI:
2002-2010
T20:
2009-2009
CLT20:
2009-2009
Mitchell Johnson Test Matches
Debut:
Australia Vs India at Wankhede Stadium, Mumbai (Bombay) – Nov 03, 2004
Last played:
Australia Vs India at M. Chinnaswamy Stadium, Bangalore – Karnataka – Oct 09, 2010
Mitchell Johnson ODI Matches
Debut:
Australia Vs South Africa at New Wanderers Stadium, Johannesburg – Mar 22, 2002
Last played:
Australia Vs Sri Lanka at Sydney Cricket Ground (SCG), Sydney – Nov 05, 2010
Mitchell Johnson T20 Matches
Debut:
Australia Vs Pakistan at Dubai Sports City Cricket Stadium, Dubai – May 07, 2009
Last played:
Australia Vs England at Old Trafford, Manchester – Aug 30, 2009
More updates about Mitchell Johnson, Mitchell Johnson profile, Mitchell Johnson biography, Mitchell Johnson history, Mitchell Johnson cricket record, Mitchell Johnson highest score, Mitchell Johnson 100s, Mitchell Johnson 50s, Mitchell Johnson fastest century, Mitchell Johnson 50, Mitchell Johnson fastest 100, Mitchell Johnson pictures, Mitchell Johnson ranking, Mitchell Johnson batting, Mitchell Johnson bowling, Mitchell Johnson fielding, Mitchell Johnson average, Mitchell Johnson wife, Mitchell Johnson family, Mitchell Johnson children, Mitchell Johnson IPL, Mitchell Johnson CLT20, Mitchell Johnson T20, Mitchell Johnson ODI, Mitchell Johnson Test will be shared soon. You can also share your comments about Mitchell Johnson.