Full name Nathan Hauritz
Born October 18, 1981, Wondai, Queensland
Current age 29 years 94 days
Nickname Ritzy
Playing role Bowler
Batting style Right-hand bat
Bowling style Right-arm offbreak
Height 1.82 m
Nathan Hauritz Picture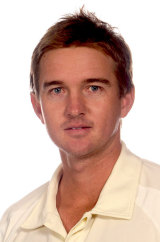 Major teams Australia, New South Wales, Queensland
Nathan Hauritz Profile
Nathan Hauritz has been Australia's most improved player of the past couple of years on the way to becoming the country's leading slow bowler. Hauritz gained an unlikely second chance at international level in 2008-09, but quickly grew into an offspinner who could mix attack and defence successfully. He really showed his value last summer when he took 18 wickets in three Tests against Pakistan batsmen who usually cause severe damage to slow bowlers.
The haul followed 11 breakthroughs against West Indies and 10 in the opening three Tests of the 2009 Ashes series, when he started strongly but was left out for the final two matches. While a heel injury stopped him from being part of the series against Pakistan in England, he remains a key part of Australia's medium-term plans. During the past two years he also became a regular contributor in the one-day team, although he is less fancied as a Twenty20 operator.
Hauritz surprised himself with his season in 2008-09 as he leapfrogged a host of fringe spinners to finish the season as the only specialist slow bowler with a Cricket Australia contract. It was a stunning turnaround for an offie who was cut loose following his first Test in 2004. Having watched Beau Casson, Jason Krejza, Cameron White and Bryce McGain take preference following Stuart MacGill's retirement in 2008, Hauritz was picked for the second Test against New Zealand in Adelaide despite not playing for New South Wales the previous week. In three matches at home he took nine wickets and appeared in his first ODI for six years, but was kept in the dressing room for the Tests in South Africa. After four breakthroughs in the opening one-dayer against the Proteas, he was chosen in every 50-over contest over two series, leading Australia's wicket-takers in the United Arab Emirates.
Hauritz, an Australian Under-19 captain, made his ODI debut at 20 and was a surprise selection for the Test tour of India ahead of MacGill in 2004. Hauritz made his debut in the fourth Test, becoming Queensland's first slow-bowling representative since Trevor Hohns in 1989, and picked up Sachin Tendulkar and VVS Laxman after opening the bowling in the second innings. His five match wickets were a distant memory on returning home, where he struggled in first-class games and was dropped towards the end of the 2004-05 season. In the next summer he also received limited opportunities with the Bulls and left for New South Wales.
He played three Pura Cup games – including the final loss to Tasmania – in his first season with the Blues and his four dismissals cost 63.50 each. However, his one-day form was excellent and he missed only one match, leading the state's wicket tally with 14 at 24. He appeared in only one first-class game the following summer, but was a fixture in the FR Cup and his seven wickets at 46.28 – and an economy rate of 4.83 – persuaded the national selectors to include him in the 30-man squad for the postponed version of the 2008 Champions Trophy. Further promotions followed quickly and he now carries big responsibilities.
Fast Facts
* He has captained the Queensland Under-14 and Australia Under-19 sides.
* He took 5 wickets in his debut Test.
* He was the highest wicket-taker for Australia (18) in their three test series against Pakistan in 2009-10.
* By the time he had played 15 test matches, his career average was nearly 4 wickets per test.
Nathan Hauritz Batting, Fielding and Bowling


The above stats are as per date of this post.
Nathan Hauritz Career
Test:
2004-2010
ODI:
2002-2010
T20:
2009-2009
CLT20:
2009-2009
Nathan Hauritz Test Matches
Debut:
Australia Vs India at Wankhede Stadium, Mumbai (Bombay) – Nov 03, 2004
Last played:
Australia Vs India at M. Chinnaswamy Stadium, Bangalore – Karnataka – Oct 09, 2010
Nathan Hauritz ODI Matches
Debut:
Australia Vs South Africa at New Wanderers Stadium, Johannesburg – Mar 22, 2002
Last played:
Australia Vs Sri Lanka at Sydney Cricket Ground (SCG), Sydney – Nov 05, 2010
Nathan Hauritz T20 Matches
Debut:
Australia Vs Pakistan at Dubai Sports City Cricket Stadium, Dubai – May 07, 2009
Last played:
Australia Vs England at Old Trafford, Manchester – Aug 30, 2009
Nathan Hauritz CLT20 Matches
Debut:
New South Wales Blues Vs Diamond Eagles at Feroz Shah Kotla, Delhi – Oct 09, 2009
Last played:
New South Wales Blues Vs Trinidad and Tobago at Rajiv Gandhi International Stadium, Hyderabad – Oct 23, 2009
More updates about Nathan Hauritz, Nathan Hauritz profile, Nathan Hauritz biography, Nathan Hauritz history, Nathan Hauritz cricket record, Nathan Hauritz highest score, Nathan Hauritz 100s, Nathan Hauritz 50s, Nathan Hauritz fastest century, Nathan Hauritz 50, Nathan Hauritz fastest 100, Nathan Hauritz pictures, Nathan Hauritz ranking, Nathan Hauritz batting, Nathan Hauritz bowling, Nathan Hauritz fielding, Nathan Hauritz average, Nathan Hauritz wife, Nathan Hauritz family, Nathan Hauritz children, Nathan Hauritz IPL, Nathan Hauritz CLT20, Nathan Hauritz T20, Nathan Hauritz ODI, Nathan Hauritz Test will be shared soon. You can also share your comments about Nathan Hauritz.