Full name Nehemiah Odhiambo
Born August 7, 1983, Nairobi, Kenya
Current age 27 years 167 days
Major teams Kenya, Africa XI, Kenya Under-19s
Also known as Nehemiah Ngoche
Nickname Nemi
Batting style Right-hand bat
Bowling style Right-arm medium-fast
Relation Brother – LN Onyango, Brother – JO Ngoche, Brother – SO Ngoche, Sister – M Bele, Sister – M Banja
Nehemiah Odhiambo Picture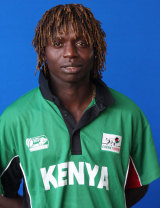 Nehemiah Odhiambo Profile
Took five wickets in an innings in his ICC Intercontinental Cup debut in 2006. Scored his first ODI half-century against Ireland at the Pepsi ICC World Cricket League Division 1 in January 2007. Favourite player is Brian Lara. Enjoys hiking, watching movies and reading in his spare time. Picked up 3-56 against Zimbabwe in February 2009 and 3-59 against South Africa in October 2008.
Nehemiah Odhiambo Career
ODI:
2006-2010
T20:
2007-2010
Nehemiah Odhiambo ODI Matches
Debut:
Kenya Vs Zimbabwe at Queen's Sports Club, Bulawayo – Feb 25, 2006
Last played:
Kenya Vs Afghanistan at Nairobi Gymkhana Club Ground, Nairobi – Oct 11, 2010
Nehemiah Odhiambo T20 Matches
Debut:
Kenya Vs New Zealand at Kingsmead, Durban – Sep 12, 2007
Last played:
Kenya Vs Netherlands at Sheikh Zayed Stadium, Abu Dhabi – Feb 11, 2010.