It's eight years since the black armband protest carried out by Henry Olonga and Andy Flower at the 2003 World Cup, and Zimbabwean cricket hasn't been the same since. The following year, Heath Streak's captaincy ended amid disharmony with Zimbabwe Cricket and an exodus of leading players began, and the country's self-imposed exile from Test cricket came in 2005.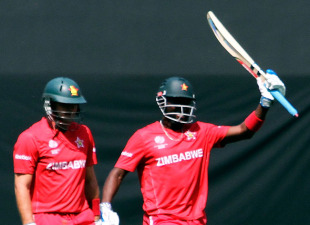 But slowly, things have started to improve in the nation's cricketing ranks. The grassroots scene has benefited from the arrival of some international stars, with Jason Gillespie coaching the Mid West Rhinos and Allan Donald having worked with the Mountaineers, while Streak is back as the national team's bowling coach and Grant Flower has returned to be the batting coach.
"I think it's come on a lot," Grant Flower said in the lead-up to Zimbabwe's first match at the World Cup, against Australia on Monday. "We've had our troubles with some of us leaving the country. We left under not the greatest circumstances but hopefully that is all in the past. Both parties probably made some mistakes but that's life, nothing's perfect. Things are moving in the right direction.
"We've got a good franchise system in place now, we've had some good overseas pros who have come and helped raise the standard, we've had some good overseas coaches who have been working with the franchise system and I think a lot of good things are in place. We've got Alastair Campbell as convener of selectors, he's done a lot of hard work behind the scenes.
"We've got some good people there, and the players are playing some decent cricket. Quite a few of the guys have played quite a few one-day internationals now, so there's quite a bit of experience. We're expecting some good things at the World Cup."
But while Zimbabwe are heading in an encouraging direction, there remains plenty of work ahead of them if they are to force their way past the group stage at this tournament. One of Australia, Sri Lanka, Pakistan and New Zealand would need to stumble for Zimbabwe to make it through, although they have gained some insights from their 3-1 loss to Bangladesh in December.
"Hopefully we've learnt from our mistakes," Flower said. "They're a very well organised side now and they're hard to beat in their home conditions. We got some things wrong there. We didn't play the left-arm spin that well. But the guys have gone back and worked hard at their games. They're more aware of what's needed on the subcontinent, so hopefully it can go from strength to strength.
"The guys have done well against Australia in other tournaments. We'll just have to see on the day. It's a huge thing to have that self-belief, and hopefully that will continue."
The Zimbabweans will have been encouraged by what they saw in the warm-up games, where Australia's batsmen struggled against spin. The slow-bowling of Prosper Utseya, Ray Price and Graeme Cremer could be a key if Zimbabwe are to cause an upset, but Utseya is not getting ahead of himself.
"It's one of our strengths and we'd like to play to our strength," Utseya said. "They're a good side, I know they have struggled against spin, but we still have a lot of work to do and we need to make sure we're on top of our game for us to be able to restrict them to a low score."
Zimbabwe won the last time these two teams played, although the format was 20 overs and it was three years ago. It would be a brave person to predict two in a row, but at least Zimbabwe are heading in the right direction.