50 overs India 260 for 9 (Tendulkar 85, Riaz 5-46) v Pakistan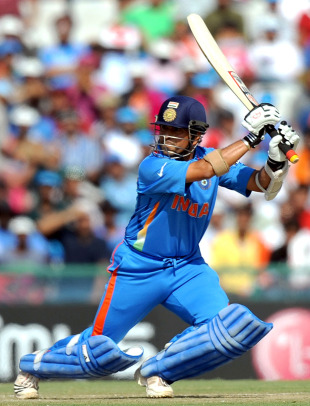 It was difficult to imagine that this semi-final could live up to the extreme pre-match hype but at the halfway point, India and Pakistan had justified the build-up. Sachin Tendulkar played one of the luckiest innings of his career, dropped four times in his 85, while a wonderful bowling effort from Wahab Riaz helped restrict India to 260, which on a good batting pitch and fast outfield was a reasonable result for Pakistan.
But while the first 50 overs were captivating, Sri Lanka would have enjoyed what they saw from the two teams fighting for the chance to meet them in Saturday's final. Apart from Riaz and the Pakistan spinners, the standard of cricket from both sides was rather poor; Pakistan's fielding was atrocious, Umar Gul (0 for 69) had his worst day in a long while, and India's batsmen seemed to wilt under the pressure of a World Cup semi-final.
Suresh Raina (36 not out) added some late runs, and 43 in the batting Powerplay in the dying stages could yet prove invaluable. India must now rely on their bowlers, and judging by the turn found by Saeed Ajmal and his colleagues, India's decision to leave out R Ashwin to make room for Ashish Nehra could prove a mistake.
That said, it was the seam movement of Riaz that caused the biggest problems for India, and he finished with 5 for 46, finding wickets just when Pakistan needed them. His much-deserved five-for arrived with a tickle behind from Zaheer Khan in the 50th over, and Pakistan must be relieved that they didn't succumb to temptation and drop him for Shoaib Akhtar.
And by picking up two lbw decisions and bowling Yuvraj Singh first ball, Riaz took the Pakistan fielders out of the equation. Tendulkar was put down on 27, 45, 70 and 81, and it seemed as though he was going to bring up his 100th international century with one of his least convincing innings of recent times.
Misbah-ul-Haq at midwicket was the first to drop Tendulkar, before Younis Khan spilled a regulation chance at cover, both off the bowling of Shahid Afridi. The third chance came when Kamran Akmal didn't move his hands quickly enough to a thick edge, again off Afridi, and while that was a tough opportunity, a pull to Umar Akmal at mid-on from the offspin of Mohammad Hafeez should have been taken.
And before he had any of those lives, Tendulkar had survived two very tight calls on 23: an lbw decision that was given out by Ian Gould but on review proved to be spinning down leg, and the next delivery a near-stumping when he just got his back foot down in time after losing his balance reaching outside off. When Tendulkar was finally taken at cover by Afridi off the bowling of Ajmal, Pakistan's relief was evident.
Soon after, a scratchy MS Dhoni, who was also dropped by Kamran, made the mistake of challenging Simon Taufel on an lbw decision. Dhoni had 25 when he missed a Riaz delivery that pitched just in line and was hitting the stumps, and it was the second outstanding call by Taufel, who had given Virender Sehwag lbw in a similar fashion earlier, even though the left-armer's angle meant pitching outside leg was a possibility.
Riaz was the man who Afridi had to thank for keeping Pakistan in the contest after India made a strong start and reached 114 for 1 off their first 18 overs. After Gautam Gambhir was stumped wandering down the pitch against Hafeez, Riaz grabbed two wickets in two balls – Virat Kohli caught at backward point and Yuvraj Singh bowled by a low full toss for a golden duck.
Nobody looked as fluent as the crease as Sehwag, who took 21 off Gul from the third over of the innings. There were boundaries from a flick over midwicket, a clip through the same region, a cut from a slower ball, a nudge behind square leg and a cover-drive off a no-ball, and the most remarkable thing about the over was that Sehwag didn't also dispatch the free hit.
The initial signs were worrying for Pakistan as Sehwag also drove Abdul Razzaq back over his head for a boundary. But what looked like a 300-plus total in those early overs became a much more gettable chase, and set up a fascinating second half in the battle to face Sri Lanka.