Full name Robin Peterson
Born August 4, 1979, Port Elizabeth, Cape Province
Current age 31 years 169 days
Playing role Bowler
Batting style Left-hand bat
Bowling style Slow left-arm orthodox
Robin Peterson Picture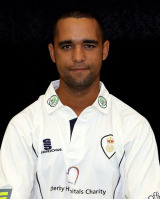 Major teams South Africa, Derbyshire, Eastern Province, Warriors
Robin Peterson Profile
Spin bowlers of genuine potential are a rarity in South Africa, much less the jewels who can hold a bat as well as field with attacking intent. Peterson, a left-arm finger spinner from Eastern Province, fills all three vacancies more than competently. At first glance he seems an overly orthodox slow bowler, but he turns the ball appreciably given help from the pitch and is invariably a tidy operator with a steadily developing understanding of flight. Peterson has also cultivated an unusual delivery that turns into the right-handed batsmen.He was part of the South African Under-19 team that took on Pakistan and England, and he played the Under-19 World Cup in 1998. Peterson made his Test debut in 2003 against Bangladesh, taking five wickets and scored 61. It was in Bangladesh where he took his first five-wicket haul as well, on the 2008 tour.
Given more chances in ODIs, Peterson has failed to grab the opportunities. With his bowling hardly a threat to the opposition batsmen, it is not surprising that one of his ODI career highlights is his winning boundary – an outside edge past slip – in South Africa's one-wicket victory over Sri Lanka at Providence during the 2007 World Cup.
Robin Peterson Batting, Fielding and Bowling


The above stats are as per date of this post.
Robin Peterson Career
Test:
2003-2008
ODI:
2002-2010
T20:
2006-2011
Robin Peterson Test Matches
Debut:
South Africa Vs Bangladesh at Bangabandhu National Stadium, Dhaka – May 01, 2003
Last played:
South Africa Vs Bangladesh at Chittagong Divisional Stadium, Chittagong – Feb 29, 2008
Robin Peterson ODI Matches
Debut:
South Africa Vs India at R.Premadasa Stadium (Khettarama), Colombo – Sep 25, 2002
Last played:
South Africa Vs Pakistan at Dubai Sports City Cricket Stadium, Dubai – Nov 08, 2010
Robin Peterson T20 Matches
Debut:
South Africa Vs Australia at New Wanderers Stadium, Johannesburg – Feb 24, 2006
Last played:
South Africa Vs India at Moses Mabhida Stadium, Durban – Jan 09, 2011
More updates about Robin Peterson, Robin Peterson profile, Robin Peterson biography, Robin Peterson history, Robin Peterson cricket record, Robin Peterson highest score, Robin Peterson 100s, Robin Peterson 50s, Robin Peterson fastest century, Robin Peterson 50, Robin Peterson fastest 100, Robin Peterson pictures, Robin Peterson ranking, Robin Peterson batting, Robin Peterson bowling, Robin Peterson fielding, Robin Peterson average, Robin Peterson wife, Robin Peterson family, Robin Peterson children, Robin Peterson IPL, Robin Peterson CLT20, Robin Peterson T20, Robin Peterson ODI, Robin Peterson Test will be shared soon. You can also share your comments about Robin Peterson.