Full name Scott Styris
Born July 10, 1975, Brisbane, Queensland, Australia
Current age 35 years 195 days
Major teams New Zealand, Auckland, Deccan Chargers, Durham, Middlesex, Northern Districts
Nickname Miley, The Rus
Playing role Allrounder
Batting style Right-hand bat
Bowling style Right-arm medium
Height 5 ft 10 in
Education Hamilton Boys High School
Scott Styris Picture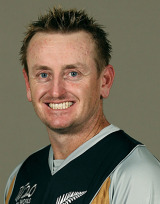 Scott Styris Profile
Northern Districts allrounder Scott Styris is a rather stereotypical New Zealand selection, but has became an integral part of the team – a fact highlighted by an outstanding 2007 World Cup. He had nearly 10 years of domestic cricket before he was called up to the Test squad, having made his one-day international debut much earlier. Originally a seamer, a knee injury forced him to take his batting more seriously, and he switched from being a bowler who can bat into being a batsman who occasionally bowls. He was awarded his Test cap on the eve of the Karachi Test in May 2002, only for it to be taken back when the match was cancelled as a result of a bomb blast. When he finally got the chance he scored a century and a half-century on debut against West Indies. On the same tour of the Caribbean he broke the New Zealand record for one-day bowling with 6 for 25 in Trinidad. He has been encouraged by John Bracewell to work on his offspin as an option which would put less strain on his body, but this has yet to be unveiled. Having spent the best part of 11 years with Northern Districts, Styris signed for Auckland – and in 2005 was tempted by Middlesex for a stint in the county game. He continued a strong link with English cricket, taking up a mid-season contract with Durham in 2007. A thrilling 101 in New Zealand's chase of a then-record 322 against Australia at Christchurch was followed by useful contributions in the one-day series against West Indies at home. A timely unbeaten 103 on and some key wickets on the first day at Auckland saw New Zealand take a series lead in the Tests. A back injury ruled him out of the home series against Sri Lanka in December 2006 but he returned in time for the last few games of the tri-series in Australia and was considered fit enough to be named in the 15-man World Cup squad where he was one of the leading performers with 499 runs at 83. After a poor Test series against South Africa in November 2007, he was dropped from the Test side for the home series against Bangladesh. In a bid to prolong his career in the limited-overs formats, he announced his retirement from Tests in February 2008.
Fast Facts
* Scot Styris has scored more than 15000 runs and has closed in on 500 wickets in first-class and List A cricket combined together.
* He is the 7th highest run-getter for New Zealand in ODIs.
* His 6-25 is the second best bowling figures for a New Zealander in ODIs and his 3-5 is also the third best figures for a Kiwi in T20s.
* He is only one of three Kiwi players to have scored more than 4000 runs and taken 100 wickets in ODIs.
* He currently holds the record for New Zealand's highest 4th wicket and 8th wicket partnerships with Taylor and Vettori respectively in ODIs.
* Styris' maiden wicket was Sachin Tendulkar in ODIs and Brian Lara in Tests.
* For a New Zealand player who has played over 150 ODIs, he has the second best dismissals per innings ratio as a fielder who is not a wicket-keeper.
* With 63 catches, he holds the second highest number of catches for a New Zealand fielder in the decade from 2000-2009.
* He is only one of eight Kiwis to have hit more than 50 sixes in ODIs.
* He is only the third New Zealand player to have scored a century and a half century in his debut test.
* He is only the second Black Caps' bowler to take three wickets against India on ODI debut.
* With 499 runs he was the highest run-getter from New Zealand in the 2007 World Cup and also picked up 9 wickets.
* Scot Styris is the only Kiwi bowler to have taken more than 5 wickets and score a half century in the same ODI.
Scott Styris Batting, Fielding and Bowling


The above stats are as per date of this post.
Scott Styris Career
Test:
2002-2007
ODI:
1999-2010
T20:
2005-2010
IPL:
2008-2009
CLT20:
2009-2009
Scott Styris Test Matches
Debut:
New Zealand Vs West Indies at National Cricket Stadium, St George's – Grenada – Jun 28, 2002
Last played:
New Zealand Vs South Africa at SuperSport Park, Centurion (Verwoerdburg) – Nov 16, 2007
Scott Styris ODI Matches
Debut:
New Zealand Vs India at Madhavrao Scindia Cricket Ground, Rajkot – Nov 05, 1999
Last played:
New Zealand Vs India at MA Chidambaram Stadium (Chepauk), Chennai (Madras) – Dec 10, 2010
Scott Styris T20 Matches
Debut:
New Zealand Vs Australia at Eden Park, Auckland – Feb 17, 2005
Last played:
New Zealand Vs Pakistan at AMI Stadium, Christchurch – Dec 30, 2010
Scott Styris IPL20 Matches
Debut:
Deccan Chargers Vs Kolkata Knight Riders at Eden Gardens, Kolkata (Calcutta) – Apr 20, 2008
Last played:
Deccan Chargers Vs Royal Challengers Bangalore at Newlands, Cape Town – Apr 22, 2009
More updates about Scott Styris, Scott Styris profile, Scott Styris biography, Scott Styris history, Scott Styris cricket record, Scott Styris highest score, Scott Styris 100s, Scott Styris 50s, Scott Styris fastest century, Scott Styris 50, Scott Styris fastest 100, Scott Styris pictures, Scott Styris ranking, Scott Styris batting, Scott Styris bowling, Scott Styris fielding, Scott Styris average, Scott Styris wife, Scott Styris family, Scott Styris children, Scott Styris IPL, Scott Styris CLT20, Scott Styris T20, Scott Styris ODI, Scott Styris Test will be shared soon. You can also share your comments about Scott Styris.