Full name Shane Watson
Born October 18, 1981, Wondai, Queensland
Current age 29 years 94 days
Nickname Ritzy
Playing role Bowler
Batting style Right-hand bat
Bowling style Right-arm offbreak
Height 1.82 m
Shane Watson Picture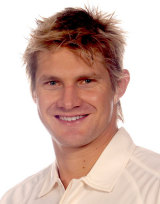 Major teams Australia, New South Wales, Queensland
Shane Watson Profile
To conquer international cricket, Shane Watson first had to beat his fragile body. Despite boasting an athletic figure made for photo shoots, Watson's frame was so brittle it threatened to break him. He refused to give up. Not through recurrences of back stress fractures, hamstring strains, calf problems, hip complaints, a dislocated shoulder or a suspected heart attack that turned out to be food poisoning.
He changed his training, preferring pilates to weights, gave up alcohol, but not his dream. It finally paid off in 2009, when he was chosen as a Test opener in the middle of the Ashes series. Many batsmen would have been uncomfortable with the promotion from the middle order, especially after failing when given the job with Queensland, but Watson has been used to re-inventing himself. In his first eight Tests in the new role he scored seven fifties and a 120. With a history of setbacks, it was not a surprise that his first Test century became such a drama, but after two scores in the 90s and an 89, he finally brought it up at the MCG – thanks to a single from a dropped catch. He has earned some luck.
At the crease he is an aggressive brute with a broad chest, a right-handed disciple of Matthew Hayden, and someone who often doesn't need to follow-through to gain a boundary. However, his drives and pulls are delivered in a much smoother style than his former Queensland team-mate and his technique is worth copying.
As a bowler he is willing and speedy, but not quite as good as he thinks he is, and is prone to post-delivery exchanges. He picks up handy wickets and delivers useful overs in all forms, although he is a run-getter first and not someone who would usually be picked on bowling alone. After years of doubt he has developed into a very modern, complete and enviable package.
Fast Facts
* He has captained the Queensland Under-14 and Australia Under-19 sides.
* He took 5 wickets in his debut Test.
* He was the highest wicket-taker for Australia (18) in their three test series against Pakistan in 2009-10.
* By the time he had played 15 test matches, his career average was nearly 4 wickets per test.
Shane Watson Batting, Fielding and Bowling


The above stats are as per date of this post.
Shane Watson Career
Test:
2004-2010
ODI:
2002-2010
T20:
2009-2009
CLT20:
2009-2009
Shane Watson Test Matches
Debut:
Australia Vs India at Wankhede Stadium, Mumbai (Bombay) – Nov 03, 2004
Last played:
Australia Vs India at M. Chinnaswamy Stadium, Bangalore – Karnataka – Oct 09, 2010
Shane Watson ODI Matches
Debut:
Australia Vs South Africa at New Wanderers Stadium, Johannesburg – Mar 22, 2002
Last played:
Australia Vs Sri Lanka at Sydney Cricket Ground (SCG), Sydney – Nov 05, 2010
Shane Watson T20 Matches
Debut:
Australia Vs Pakistan at Dubai Sports City Cricket Stadium, Dubai – May 07, 2009
Last played:
Australia Vs England at Old Trafford, Manchester – Aug 30, 2009
Shane Watson IPL Matches
Debut:
Kolkata Knight Riders Vs Royal Challengers Bangalore at M. Chinnaswamy Stadium, Bangalore – Karnataka – Apr 18, 2008
Last played:
Kolkata Knight Riders Vs Mumbai Indians at Eden Gardens, Kolkata (Calcutta) – Apr 29, 2008
More updates about Shane Watson, Shane Watson profile, Shane Watson biography, Shane Watson history, Shane Watson cricket record, Shane Watson highest score, Shane Watson 100s, Shane Watson 50s, Shane Watson fastest century, Shane Watson 50, Shane Watson fastest 100, Shane Watson pictures, Shane Watson ranking, Shane Watson batting, Shane Watson bowling, Shane Watson fielding, Shane Watson average, Shane Watson wife, Shane Watson family, Shane Watson children, Shane Watson IPL, Shane Watson CLT20, Shane Watson T20, Shane Watson ODI, Shane Watson Test will be shared soon. You can also share your comments about Shane Watson.