Full name Shaun Tait
Born October 18, 1981, Wondai, Queensland
Current age 29 years 94 days
Nickname Ritzy
Playing role Bowler
Batting style Right-hand bat
Bowling style Right-arm offbreak
Height 1.82 m
Shaun Tait Picture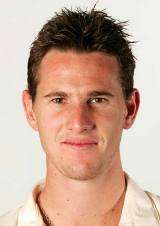 Major teams Australia, New South Wales, Queensland
Shaun Tait Profile
Shaun Tait's body found the Test workload too tough but he has remained a brutal bowler in the game's short forms. In January 2008 he took an indefinite break from the game due to physical and emotional exhaustion and since returning later that year has focused only on Twenty20s and one-dayers. The method has proved highly successful as he floats around the world delivering short, blistering spells. As a late addition to Australia's one-day squad in 2010, he unleashed a ball against England at Lord's that registered at 161.1kph, the second-fastest of all-time, but it has been the consistent push for speed that has crippled him regularly.
While Tait's shoulder-strong action slung him on to the 2005 Ashes tour, where he played two Tests ahead of his more celebrated South Australia team-mate Jason Gillespie, it soon disrupted his quest for further international impact. With a muscular and unrefined method that seems to invite pain, Tait returned from England buoyed by his promotion only to hurt himself in a grade match and the subsequent shoulder surgery forced him out for the rest of the year. He experienced no damage to his frightening pace stores, and returned to national colours in the absence of Brett Lee to play a significant role in Australia's unbeaten defence of the 2007 World Cup. He was back in the Caribbean three years later when Australia reached the World Twenty20 final, and remains a favourite of Ricky Ponting's for his strike-power.
Despite numerous setbacks – a back problem suffered in the nets ended his trip to South Africa and a hamstring complaint delayed his ODI entry until the eve of the World Cup in 2007 – his old-fashioned approach of yorkers and bumpers mixed with a modern dose of sharp reverse-swing causes huge excitement for everyone but the batsmen. Like Dennis Lillee, another whose body broke chasing pace, Tait can shine the ball across his chest, and finished his first Test day with a splash of red on his shirt as well as the wickets of Marcus Trescothick and Ian Bell.
The Bradman Young Cricketer of the Year in 2003-04, Tait also picked up the ING Cup's Best New Talent prize, chiefly for his 8 for 43 against Tasmania, the most impressive figures in domestic limited-overs history. When Lee was injured Tait was taken as a development player on the Sri Lanka tour, where he introduced himself to Ponting in the nets by hitting him in the head with a bouncer. His early beginnings might have been spicy, but his next year was even tastier with 65 first-class wickets in ten matches. An abbreviated 2005-06 included 6 for 41 in the ING Cup Final – an amazing combination of spot-on speed and 14 wides – and he backed up the following season to earn his first start in the national one-day side.
In his opening two matches he showed his range, giving up 2 for 68 and 1 for 26 from his ten overs, and clocked 160kph. It won him a World Cup spot and his 23 wickets at 20.30 in the Caribbean proved Lillee's belief that he "has all the resources to stick the ball right up the noses of the batsmen". However, he needed elbow surgery on his return home and spent the winter in rehab. A child of the Adelaide Hills, he received his best advice at the age of seven when his father suggested he play cricket.
Fast Facts
* He has captained the Queensland Under-14 and Australia Under-19 sides.
* He took 5 wickets in his debut Test.
* He was the highest wicket-taker for Australia (18) in their three test series against Pakistan in 2009-10.
* By the time he had played 15 test matches, his career average was nearly 4 wickets per test.
Shaun Tait Batting, Fielding and Bowling


The above stats are as per date of this post.
Shaun Tait Career
Test:
2004-2010
ODI:
2002-2010
T20:
2009-2009
CLT20:
2009-2009
Shaun Tait Test Matches
Debut:
Australia Vs India at Wankhede Stadium, Mumbai (Bombay) – Nov 03, 2004
Last played:
Australia Vs India at M. Chinnaswamy Stadium, Bangalore – Karnataka – Oct 09, 2010
Shaun Tait ODI Matches
Debut:
Australia Vs South Africa at New Wanderers Stadium, Johannesburg – Mar 22, 2002
Last played:
Australia Vs Sri Lanka at Sydney Cricket Ground (SCG), Sydney – Nov 05, 2010
Shaun Tait T20 Matches
Debut:
Australia Vs Pakistan at Dubai Sports City Cricket Stadium, Dubai – May 07, 2009
Last played:
Australia Vs England at Old Trafford, Manchester – Aug 30, 2009
Shaun Tait IPL Matches
Debut:
Kolkata Knight Riders Vs Royal Challengers Bangalore at M. Chinnaswamy Stadium, Bangalore – Karnataka – Apr 18, 2008
Last played:
Kolkata Knight Riders Vs Mumbai Indians at Eden Gardens, Kolkata (Calcutta) – Apr 29, 2008
Shaun Tait CLT20 Matches
Debut:
New South Wales Blues Vs Diamond Eagles at Feroz Shah Kotla, Delhi – Oct 09, 2009
Last played:
New South Wales Blues Vs Trinidad and Tobago at Rajiv Gandhi International Stadium, Hyderabad – Oct 23, 2009
More updates about Shaun Tait, Shaun Tait profile, Shaun Tait biography, Shaun Tait history, Shaun Tait cricket record, Shaun Tait highest score, Shaun Tait 100s, Shaun Tait 50s, Shaun Tait fastest century, Shaun Tait 50, Shaun Tait fastest 100, Shaun Tait pictures, Shaun Tait ranking, Shaun Tait batting, Shaun Tait bowling, Shaun Tait fielding, Shaun Tait average, Shaun Tait wife, Shaun Tait family, Shaun Tait children, Shaun Tait IPL, Shaun Tait CLT20, Shaun Tait T20, Shaun Tait ODI, Shaun Tait Test will be shared soon. You can also share your comments about Shaun Tait.