Full name Steven Smith
Born October 18, 1981, Wondai, Queensland
Current age 29 years 94 days
Nickname Ritzy
Playing role Bowler
Batting style Right-hand bat
Bowling style Right-arm offbreak
Height 1.82 m
Steven Smith Picture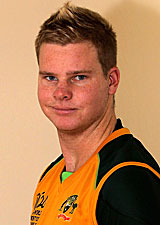 Major teams Australia, New South Wales, Queensland
Steven Smith Profile
Steven Smith is the most promising Australian spinner since Shane Warne emerged – but he is more than that. He carries the extra advantage of being an outstanding batsman who could soon slot in to the top six for his country, whether he bowls or not. By the age of 21 he was in Australia's Test, one-day and Twenty20 teams, picked on promise and quickly showing the composure of a seasoned professional. There were words of caution about his early elevation, but there was no hiding the excitement about a player who gives the ball air, hits it hard, catches it at will and seems unbothered by pressure.
Smith became an international player in 2009-10 after starring with New South Wales, striking four Sheffield Shield centuries and finishing the season with career-best figures of 7 for 64. After only 13 first-class games he was picked on a Test tour of New Zealand but didn't get to play. He had already been trialled in the T20 and ODI sides, impressing with his attitude, and was used more as a legspinner than a batsman. Figures of 2 for 78 in his first one-dayer against West Indies don't look great, but he convinced Ricky Ponting to keep the field up to build pressure. Not many 20-year-olds – Smith looks even younger – win arguments like that. He was part of the squad in Australia's journey to the World Twenty20 final and his opening Test series, against Pakistan in England, was encouraging. There were three wickets in the two games and a muscular 77 in the second innings at Leeds.
A promising start to his state career occurred in 2007-08, when he played his first games in the three domestic formats. In the Pura Cup he opened with 33 and began his FR Cup experience without batting, although he posted 35 in his second attempt. The biggest impact came in the Twenty20 tournament, where he finished the qualifying matches as the competition's joint-highest wicket-taker with nine at a remarkable average of 5.33. His 4 for 15 in the dying stages against a Queensland side chasing 122 helped New South Wales to victory and earned him the Man-of-the-Match award.
Further all-round gains were made in 2008-09 when he added 207 runs in four first-class games, including a high of 68, and five wickets. There were six FR Cup breakthroughs in seven appearances along with 117 runs, but he delivered only four overs in five T20s, despite his success the previous summer. Smith was given his first New South Wales rookie contract in 2007-08, was named in the Australian squad for the 2008 Under-19 World Cup in Malaysia, and had his state deal upgraded in the 2008 off-season.
Fast Facts
* He has captained the Queensland Under-14 and Australia Under-19 sides.
* He took 5 wickets in his debut Test.
* He was the highest wicket-taker for Australia (18) in their three test series against Pakistan in 2009-10.
* By the time he had played 15 test matches, his career average was nearly 4 wickets per test.
Steven Smith Batting, Fielding and Bowling


The above stats are as per date of this post.
Steven Smith Career
Test:
2004-2010
ODI:
2002-2010
T20:
2009-2009
CLT20:
2009-2009
Steven Smith Test Matches
Debut:
Australia Vs India at Wankhede Stadium, Mumbai (Bombay) – Nov 03, 2004
Last played:
Australia Vs India at M. Chinnaswamy Stadium, Bangalore – Karnataka – Oct 09, 2010
Steven Smith ODI Matches
Debut:
Australia Vs South Africa at New Wanderers Stadium, Johannesburg – Mar 22, 2002
Last played:
Australia Vs Sri Lanka at Sydney Cricket Ground (SCG), Sydney – Nov 05, 2010
Steven Smith T20 Matches
Debut:
Australia Vs Pakistan at Dubai Sports City Cricket Stadium, Dubai – May 07, 2009
Last played:
Australia Vs England at Old Trafford, Manchester – Aug 30, 2009
Steven Smith CLT20 Matches
Debut:
New South Wales Blues Vs Diamond Eagles at Feroz Shah Kotla, Delhi – Oct 09, 2009
Last played:
New South Wales Blues Vs Trinidad and Tobago at Rajiv Gandhi International Stadium, Hyderabad – Oct 23, 2009
More updates about Steven Smith, Steven Smith profile, Steven Smith biography, Steven Smith history, Steven Smith cricket record, Steven Smith highest score, Steven Smith 100s, Steven Smith 50s, Steven Smith fastest century, Steven Smith 50, Steven Smith fastest 100, Steven Smith pictures, Steven Smith ranking, Steven Smith batting, Steven Smith bowling, Steven Smith fielding, Steven Smith average, Steven Smith wife, Steven Smith family, Steven Smith children, Steven Smith IPL, Steven Smith CLT20, Steven Smith T20, Steven Smith ODI, Steven Smith Test will be shared soon. You can also share your comments about Steven Smith.