Full name Sulieman Benn
Born July 22, 1981, Haynesville, St James, Barbados
Current age 29 years 184 days
Major teams West Indies, Barbados, Stanford Superstars, West Indies B
Playing role Allrounder
Batting style Left-hand bat
Bowling style Slow left-arm orthodox
Height 6 ft 7 in
Sulieman Benn Picture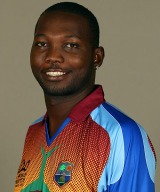 Sulieman Benn Profile
There aren't many players who can look down at Chris Gayle, but at 6'7″ Sulieman Benn towers over his captain and makes the likes of Shivnarine Chanderpaul and Brendan Nash look like schoolboys. Built like a fast bowler, and with the fiery attitude of one, Benn is also no stranger to on-field controversies. In 2007, he was involved in an ugly incident with batsman Robin Parris during a club game at Queen's Park Oval, and in 2009 was involved in a heated on-field argument with Brad Haddin and Mitchell Johnson in the third Test at Perth. There were yet more charges to be added to his sheet, as Benn was dismissed from the field by his own captain during South Africa's one-day whitewashing of West Indies in 2010 after apparently refusing to bowl over the wicket, and in the Test series which followed was involved in several colourful exchanges with Dale Steyn.
But between the controversies came consistent performances which made clear his passion, determination and skill as a bowler and Benn has also cemented a spot as West Indies' most reliable spinner in years. His height gives him a curious aspect akin to a windmill when he delivers, but it also makes facing him on a dry track a daunting prospect. He has been economical without being spectacular for West Indies in one-day cricket, but registered remarkable figures of 4 for 6 in a Twenty20 against Zimbabwe in early 2010 – a match that, however, West Indies went on to lose. He picked up eight wickets in the first Test against England at Sabina Park in February 2009 to help set up what was ultimately a Test series win – although his efforts were forgotten amid Jerome Taylor's destruction of England's top order. His first five-wicket haul came in the drawn Test against Australia at Adelaide in December 2009, and he picked up career-best figures of 6 for 81 in the Third Test against South Africa in June 2010.
Sulieman Benn Batting, Fielding and Bowling


The above stats are as per date of this post.
Sulieman Benn Career
Test:
2008-2010
ODI:
2008-2010
T20:
2008-2010
Sulieman Benn Test Matches
Debut:
West Indies Vs Sri Lanka at Providence Stadium, Guyana – Mar 22, 2008
Last played:
West Indies Vs Sri Lanka at Pallekele International Cricket Stadium, Kandy – Dec 01, 2010
Sulieman Benn ODI Matches
Debut:
West Indies Vs Sri Lanka at Queen's Park Oval, Port of Spain – Trinidad – Apr 10, 2008
Last played:
West Indies Vs South Africa at Windsor Park, Roseau, Dominica – May 30, 2010
Sulieman Benn T20 Matches
Debut:
West Indies Vs Australia at Kensington Oval, Bridgetown – Barbados – Jun 20, 2008
Last played:
West Indies Vs South Africa at Sir Vivian Richards Stadium, St Peter's, Antigua – May 20, 2010
More updates about Sulieman Benn, Sulieman Benn profile, Sulieman Benn biography, Sulieman Benn history, Sulieman Benn cricket record, Sulieman Benn highest score, Sulieman Benn 100s, Sulieman Benn 50s, Sulieman Benn fastest century, Sulieman Benn 50, Sulieman Benn fastest 100, Sulieman Benn pictures, Sulieman Benn ranking, Sulieman Benn batting, Sulieman Benn bowling, Sulieman Benn fielding, Sulieman Benn average, Sulieman Benn wife, Sulieman Benn family, Sulieman Benn children, Sulieman Benn IPL, Sulieman Benn CLT20, Sulieman Benn T20, Sulieman Benn ODI, Sulieman Benn Test will be shared soon. You can also share your comments about Sulieman Benn.