Full name Suresh Raina
Born November 27, 1986, Muradnagar, Ghaziabad, Uttar Pradesh
Current age 24 years 53 days
Also known as Sanu
Playing role Batsman
Batting style Left-hand bat
Bowling style Right-arm offbreak
Suresh Raina Picture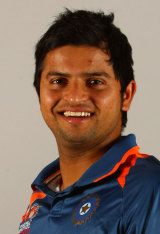 Major teams India, Chennai Super Kings, India Blue, India Under-19s, Indian Board President's XI, Rajasthan Cricket Association President's XI, Uttar Pradesh, Uttar Pradesh Under-16s
Suresh Raina Profile
Suresh Raina represents the new age Indian cricketer. An attacking left-hander who goes for the big shots with impunity and clears the field with a swashbuckling flourish when at the top of his game, Raina is also equally capable of attracting applause as an electric fielder in the circle. It has taken him five years to cement his place as an India regular, moving from a limited-overs specialist who played 98 ODIs to one who became the 12th Indian to make a Test century on debut. Raina made his Test debut in Sri Lanka as a replacement for injured team-mate Yuvraj Singh, who, like Raina, was a left-hander, a dasher, and in the early 2000s, India's most athletic fielder. With the Test spot finally earned and a growing ability to spend long hours at the crease and see a crisis through, Raina may think of 2009-10 as the season of his turnaround, though a lean run at home against New Zealand and a questionable technique against bounce and movement in South Africa in late 2010 gave life to doubts that he seemed to have killed earlier.
Raina's ability to split the field and discover gaps where fielders could not be placed earned him high praise when he first burst through to play for India in December 2006. The early years, however, were marked by a stack of attractive cameos in ODIs, but only a handful emphatic performances that changed the course of games. A string of 15 ODIs without a half-century found Raina being dropped from the national team, missing out on the 2007 World Cup and falling off the selectors' radar.
An 18-month gap from international cricket had Raina producing a mountain of runs in domestic cricket before he marked his return to the Indian team in the Asia Cup in June 2008 with two centuries and the second-highest aggregate in the tournament. The last three years have been Raina's most prolific, with three centuries and 12 of his 15 ODI fifties, and a growing stature in the line-up as one of India's responsible gen-next batsmen. Also helping his cause were three supremely successful seasons for Chennai Super Kings in the IPL and in the Champions League. He was one of the four players retained by the franchise for the 2011 season.
His tenacity at the worst of times is typical of someone who has spent his teenage years living away from home in the demanding world of the Uttar Pradesh sports hostel, where a lack of facilities or grooming produces cricketers who must match talent with determination. At the under-19 level, Raina was prodigious with his run-scoring and a string of double-hundreds took him to the Indian junior team and beyond it, to India colours. For a player of his ability, though, India must hope that Raina's best innings are still to be played.
Fast Facts
* Suresh Raina became the 10th ODI player to notch three consecutive Man-of-the-Match awards. He accomplished the recognition with knocks of 101, 84 and 116* against Hong Kong, Pakistan and Bangladesh respectively.
* Raina became the third overall and the first Indian to score a T20I century (101 vs South Africa in the 2010 World T20).
* He holds the record for playing the maximum number of ODIs (98) before behind handed a Test debut, beating Australian Andrew Symonds' 94.
* In Tests, he became the 12th Indian to score a century on debut.
* Raina became the third player to score a century in all three formats of cricket after Gayle and McCullum.
* He was also India's top run-getter and the fifth highest overall in the 2010 ICC World Twenty20.
Suresh Raina Batting, Fielding and Bowling


The above stats are as per date of this post.
Suresh Raina Career
Test:
2010-2010
ODI:
2005-2011
T20:
2006-2011
IPL:
2008-2010
CLT20:
2010-2010
Suresh Raina Test Matches
Debut:
India Vs Sri Lanka at Sinhalese Sports Club Ground, Colombo – Jul 26, 2010
Last played:
India Vs South Africa at SuperSport Park, Centurion – Dec 16, 2010
Suresh Raina ODI Matches
Debut:
India Vs Sri Lanka at Rangiri Dambulla International Stadium, Rangiri – Jul 30, 2005
Last played:
India Vs South Africa at Newlands, Cape Town – Jan 18, 2011
Suresh Raina T20 Matches
Debut:
India Vs South Africa at New Wanderers Stadium, Johannesburg – Dec 01, 2006
Last played:
India Vs South Africa at Moses Mabhida Stadium, Durban – Jan 09, 2011
Suresh Raina IPL Matches
Debut:
Chennai Super Kings Vs Kings XI Punjab at Punjab Cricket Association Stadium, Mohali – Chandigarh – Apr 19, 2008
Last played:
Chennai Super Kings Vs Mumbai Indians at Dr DY Patil Sports Academy, Mumbai – Apr 25, 2010
Suresh Raina CLT20 Matches
Debut:
Chennai Super Kings Vs Central Stags at Kingsmead, Durban – Sep 11, 2010
Last played:
Chennai Super Kings Vs Warriors at New Wanderers Stadium, Johannesburg – Sep 26, 2010
More updates about Suresh Raina, Suresh Raina profile, Suresh Raina biography, Suresh Raina history, Suresh Raina cricket record, Suresh Raina highest score, Suresh Raina 100s, Suresh Raina 50s, Suresh Raina fastest century, Suresh Raina 50, Suresh Raina fastest 100, Suresh Raina pictures, Suresh Raina ranking, Suresh Raina batting, Suresh Raina bowling, Suresh Raina fielding, Suresh Raina average, Suresh Raina wife, Suresh Raina family, Suresh Raina children, Suresh Raina IPL, Suresh Raina CLT20, Suresh Raina T20, Suresh Raina ODI, Suresh Raina Test will be shared soon. You can also share your comments about Suresh Raina.