Sachin Tendulkar has been named India's cricketer of the year at the BCCI awards in Mumbai, while former allrounder Salim Durani, who helped shape India's maiden Test win in the West Indies in 1971, received the lifetime achievement award.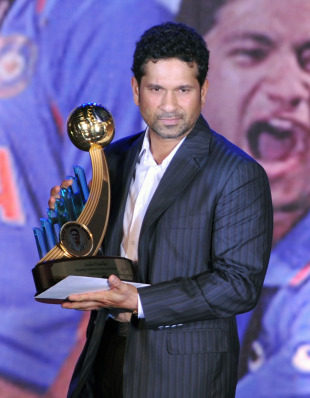 Tendulkar scored 1,064 runs in ten Tests between October 2009 and September 2010 – the period for which the awards were presented – at an average of 82.00, besides scoring one-day cricket's first double-hundred.
Durani, a left-hand batsman and left-arm spinner who played 29 Tests between 1960 and 1973, was renowned for his six-hitting prowess. He bowled India to victory over England in 1961-62, picking up eight and ten wickets in wins in Calcutta and Madras. Almost a decade later he was instrumental in India's victory over West Indies in Port of Spain, claiming the big wickets of Clive Lloyd and Gary Sobers.
India's World Cup-winning team and support staff were also honoured at the awards. Talking about the achievement, India captain MS Dhoni said his team did well to capitalise on the home advantage during the World Cup. "When you play for the country, the one thing you want to win is the World Cup," he said. "It is a proud moment for all of us. We exploited the conditions really well."
Karnataka's Manish Pandey picked up the best batsman in domestic cricket award, having scored 882 runs in nine Ranji Trophy matches, while fast bowler Abhimanyu Mithun, who claimed 47 wickets in the competition, was named best bowler.
List of award winners
CK Nayudu Award for lifetime achievement: Salim Durani
Best Cricket Association of the Year for overall performance: Maharashtra
Best domestic umpire: K Hariharan
Polly Umrigar Award for cricketer of the year: Sachin Tendulkar
Madhavrao Scindia Award for most runs in domestic cricket: Manish Pandey
Madhavrao Scindia Award for most wickets in domestic cricket: Abhimanyu Mithun
M A Chidambaram Trophy for best Under-16 cricketer: Tamil Nadu's B Aparajith
M A Chidambaram Trophy for best Under-19 cricketer:Gujarat's Bhargav Merai
M A Chidambaram Trophy for best Under-22 cricketer: Orissa's Natraj Behera
M A Chidambaram Trophy for best woman cricketer: MD Thirushkamini
M A Chidambaram Trophy for best junior woman cricketer: Reva Arora