Full name Tim Paine
Born October 18, 1981, Wondai, Queensland
Current age 29 years 94 days
Nickname Ritzy
Playing role Bowler
Batting style Right-hand bat
Bowling style Right-arm offbreak
Height 1.82 m
Tim Paine Picture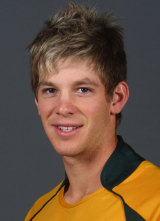 Major teams Australia, New South Wales, Queensland
Tim Paine Profile
A solid top-order batsman and wicketkeeper, Tim Paine was earmarked as next in line behind Brad Haddin when he was picked in Australia's one-day squad to tour England in 2009. It came after a strong Australia A series, in which Paine made 134 opening the batting against Pakistan A to confirm his limited-overs abilities. He quickly moved ahead of Graham Manou and Chris Hartley to become the full-time understudy and was part of the Test squad to face Pakistan in 2010. He did well, grabbing 11 catches and a smart legside stumping in the two matches, and contributed useful runs, with a high of 47 at Lord's.
Chosen to open in his second ODI, Paine started to shine as an international player a couple of matches later when he recorded his first century against England, with 111 at Trent Bridge. Since then he has been a steady contributor as he learns the game whenever Haddin is away. An elbow problem kept Haddin at home and allowed Paine a lengthy chance to audition for the gloves in the United Kingdom in 2010. It was the first time an understudy had been granted so much time in Tests since Ian Healy debuted in 1988-89.
Paine already knows how quickly the hard-won position can be lost after breaking his finger in India last year, an injury which provided Manou with another chance. It wasn't costly to his international ambitions, but it contributed to a quiet home summer with the bat, although he did collect a hundred in Tasmania's FR Cup final victory. In 2008-09, Paine confirmed his place as the state's wicketkeeper in all formats after battling with Sean Clingeleffer for the Sheffield Shield berth. He scored 445 Shield runs at 29.66 and collected 42 dismissals and his importance to the team was recognised when he was named Tasmania's vice-captain for 2009-10. Paine has learnt how to combine his batting and wicketkeeping roles having struggled in the past to manage the two disciplines.
In 2006-07, Paine was playing as a specialist batsman when his superb 215 opening against Western Australia in his fifth first-class match placed significant pressure on Clingeleffer. A few games later, Paine was handed the gloves but the added responsibility affected his run-making – his six innings during that time yielded one score in double-figures and an average of 4.66 – and the previous arrangement was restored. Still, Paine played every match in Tasmania's Pura Cup-winning season, scoring 621 runs at 31.05, and it seemed only a matter of time before he would again be behind the stumps in the first-class team.
Paine had no such trouble with his twin roles in the one-day format. He was a consistent contributor in Tasmania's triumphant 2007-08 campaign and finished with 261 runs at 37.28 along with 21 dismissals. His 115 came in the final preliminary match against South Australia as the Tigers built momentum ahead of the decider. The previous year Paine was the state's highest scorer in the one-day arena with 314 at 31.40, and in his debut year of 2005-06, he celebrated his first state century with 111 in the ING Cup. He had been earmarked for great things when the Tigers signed him to a rookie contract at the tender age of 16. Paine, who captained the Australia Under-19 team to the 2004 World Cup in Bangladesh, has had three stints at the Academy.
Fast Facts
* He has captained the Queensland Under-14 and Australia Under-19 sides.
* He took 5 wickets in his debut Test.
* He was the highest wicket-taker for Australia (18) in their three test series against Pakistan in 2009-10.
* By the time he had played 15 test matches, his career average was nearly 4 wickets per test.
Tim Paine Batting, Fielding and Bowling


The above stats are as per date of this post.
Tim Paine Career
Test:
2004-2010
ODI:
2002-2010
T20:
2009-2009
CLT20:
2009-2009
Tim Paine Test Matches
Debut:
Australia Vs India at Wankhede Stadium, Mumbai (Bombay) – Nov 03, 2004
Last played:
Australia Vs India at M. Chinnaswamy Stadium, Bangalore – Karnataka – Oct 09, 2010
Tim Paine ODI Matches
Debut:
Australia Vs South Africa at New Wanderers Stadium, Johannesburg – Mar 22, 2002
Last played:
Australia Vs Sri Lanka at Sydney Cricket Ground (SCG), Sydney – Nov 05, 2010
Tim Paine T20 Matches
Debut:
Australia Vs Pakistan at Dubai Sports City Cricket Stadium, Dubai – May 07, 2009
Last played:
Australia Vs England at Old Trafford, Manchester – Aug 30, 2009
More updates about Tim Paine, Tim Paine profile, Tim Paine biography, Tim Paine history, Tim Paine cricket record, Tim Paine highest score, Tim Paine 100s, Tim Paine 50s, Tim Paine fastest century, Tim Paine 50, Tim Paine fastest 100, Tim Paine pictures, Tim Paine ranking, Tim Paine batting, Tim Paine bowling, Tim Paine fielding, Tim Paine average, Tim Paine wife, Tim Paine family, Tim Paine children, Tim Paine IPL, Tim Paine CLT20, Tim Paine T20, Tim Paine ODI, Tim Paine Test will be shared soon. You can also share your comments about Tim Paine.