Full name Tim Southee
Born December 11, 1988, Whangarei, Northland
Current age 22 years 41 days
Major teams New Zealand, New Zealand Under-19s, Northern Districts
Batting style Right-hand bat
Bowling style Right-arm medium-fast
Tim Southee Picture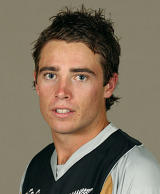 Tim Southee Profile
New Zealand's selectors monitored the progress of Tim Southee, a right-arm swing bowler, with great interest before handing him his Test debut against England in Napier while he was still 19. Southee responded with 5 for 55 before smashing 77 off 40 balls in the second innings with nine sixes to hint at a bright all-round future. He's seemed destined for an international career from his early days. He made his first-class debut for Northern Districts at the age of 18 in late 2006-07 and the next season showed significant promise, claiming 6 for 68 in a particularly impressive effort against Auckland. Named in the squad for the Under-19 World Cup, Southee received a major boost when he was called into the senior set-up for New Zealand's Twenty20 matches against England in early 2008. On debut, he took 1 for 38 in a losing cause at Eden Park. He was the second highest wicket-taker at the Under-19 World Cup in 2008 and won the Player-of-the-Tournament award for his 17 wickets which led New Zealand to the semi-finals. He'd barely had time to unpack his bags when a full call-up came his way and he didn't disappoint.
Fast Facts
* Out of 240 players in the 2008 Under-19 WC, Southee was the only one with international experience having played for NZ in T20s.
* He was the second highest wicket-taker in the 2008 Under-19 WC with 17 scalps and was also named 'Player of the Tournament'.
* He is the only player in Test history to have hit 9 sixes on debut.
* He is one of only 6 New Zealand's bowlers to take a 5-wicket haul on debut.
* At 19, he is the youngest Kiwi bowler to have taken a five-wicket haul against England in Tests.
* He is the second New Zealand player to take a five-wicket haul and score a half century on Test debut.
* On his T20 debut he created a record as the youngest debutant for NZ in the shortest format of the game.
* His 13 wickets in 5 matches vs England in 2008 is a record for a bowling debut in a two-team ODI series.
Tim Southee Batting, Fielding and Bowling


The above stats are as per date of this post.
Tim Southee Career
Test:
2008-2011
ODI:
2008-2010
T20:
2008-2010
Tim Southee Test Matches
Debut:
New Zealand Vs England at McLean Park, Napier – Mar 22, 2008
Last played:
New Zealand Vs Pakistan at Basin Reserve, Wellington – Jan 15, 2011
Tim Southee ODI Matches
Debut:
New Zealand Vs England at Riverside Ground, Chester-le-Street – Jun 15, 2008
Last played:
New Zealand Vs India at MA Chidambaram Stadium (Chepauk), Chennai (Madras) – Dec 10, 2010
Tim Southee T20 Matches
Debut:
New Zealand Vs England at Eden Park, Auckland – Feb 05, 2008
Last played:
New Zealand Vs Pakistan at AMI Stadium, Christchurch – Dec 30, 2010
More updates about Tim Southee, Tim Southee profile, Tim Southee biography, Tim Southee history, Tim Southee cricket record, Tim Southee highest score, Tim Southee 100s, Tim Southee 50s, Tim Southee fastest century, Tim Southee 50, Tim Southee fastest 100, Tim Southee pictures, Tim Southee ranking, Tim Southee batting, Tim Southee bowling, Tim Southee fielding, Tim Southee average, Tim Southee wife, Tim Southee family, Tim Southee children, Tim Southee IPL, Tim Southee CLT20, Tim Southee T20, Tim Southee ODI, Tim Southee Test will be shared soon. You can also share your comments about Tim Southee.