Full name Tom Cooper
Born November 26, 1986, Wollongong, New South Wales
Current age 24 years 55 days
Nickname Coops
Batting style Right-hand bat
Bowling style Right-arm offbreak
Height 1.87 m
Education University of NSW
Tom Cooper Picture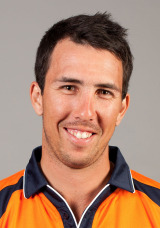 Major teams Netherlands, Australia Under-19s, New South Wales Institute of Sport, New South Wales Second XI, New South Wales Under-17s, New South Wales Under-19s, South Australia, South Australia Second XI
Tom Cooper Profile
An aggressive batsman who was born in Wollongong, in New South Wales – the same coastal city which produced Brett Lee – Tom Cooper now plays his club cricket for University in Adelaide. An Australian Under-19 representative – he made 104 against South Africa in the 2005-06 Youth World Cup – Cooper broke into the senior South Australian side in November 2008.
His early successes came in limited-overs games, starting with 53 in his first one, against Western Australia at Adelaide Oval, and a month later he hit 101 against New South Wales at the SCG. But he really opened eyes with an innings of 160 not out for the Prime Minister's XI against the touring West Indians at Canberra in February 2010. Cooper spanked six sixes and 14 fours, and made a decent game of it after similar fireworks earlier from Chris Gayle (146 from 89 balls) had propelled the West Indians to an eye-watering total of 399 in their 45 overs.
Later in 2010, Cooper decided to play in the Netherlands, from where his mother hails. This connection allowed him to be fast-tracked into the Dutch national side, and he made an unprecedented start by scoring half-centuries in each of his first three full one-day internationals. He added a century in his fifth game, and 96 in his seventh – both against Afghanistan – at which point his ODI average stood at a lofty 81.33, admittedly all against Associate opposition. It dropped a little when he encountered Test bowlers (with 8 v Bangladesh in Glasgow). Time will tell if Cooper can emulate Dirk Nannes and swap an orange shirt for a green-and-gold one.
Tom Cooper Career
ODI:
2010-2010
CLT20:
2010-2010
Tom Cooper ODI Matches
Debut:
Netherlands Vs Scotland at Hazelaarweg, Rotterdam – Jun 15, 2010
Last played:
Netherlands Vs Ireland at Castle Avenue, Dublin – Aug 18, 2010
Tom Cooper CLT20 Matches
Debut:
Southern Redbacks Vs Highveld Lions at Centurion, Tshwane – Sep 12, 2010
Last played:
Southern Redbacks Vs Warriors at Centurion, Tshwane – Sep 25, 2010.
More updates about Tom Cooper, Tom Cooper profile, Tom Cooper biography, Tom Cooper history, Tom Cooper cricket record, Tom Cooper highest score, Tom Cooper 100s, Tom Cooper 50s, Tom Cooper fastest century, Tom Cooper 50, Tom Cooper fastest 100, Tom Cooper pictures, Tom Cooper ranking, Tom Cooper batting, Tom Cooper bowling, Tom Cooper fielding, Tom Cooper average, Tom Cooper wife, Tom Cooper family, Tom Cooper children, Tom Cooper IPL, Tom Cooper CLT20, Tom Cooper T20, Tom Cooper ODI, Tom Cooper Test will be shared soon. You can also share your comments about Tom Cooper.