Full name Yuvraj Singh
Born December 12, 1981, Chandigarh
Current age 29 years 38 days
Playing role Middle-order batsman
Batting style Left-hand bat
Bowling style Slow left-arm orthodox
Relation Father – B Yograj Singh
Yuvraj Singh Picture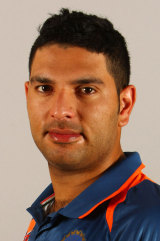 Major teams India, Asia XI, Kings XI Punjab, Punjab, Yorkshire
Yuvraj Singh Profile
When all is well with Yuvraj Singh, he hits the ball as clean and long as it has ever been hit. When all is not well, he looks so awkward you forget he can hit the ball clean and long. All is well with Yuvraj more often in limited-overs cricket, where he can be effortless and brutal at the same time, than in Tests. When he started off his athleticism on the field and his canny left-arm spin made him a dream one-day player as Indian cricket went through a makeover at the turn of the century.
Yuvraj's father, Yograj, who played one Test for India, was what Mike Agassi was to Andre. So obsessed was he with Yuvraj's cricket that he took a skating gold medal off his young son's neck and threw it out of the car. "From now on, you are going to play cricket." And from then on he has played cricket. The major shift came when, at 15, he carried kitbags in crowded local trains, living away from his parents and a luxurious life in Punjab. At 18 he was shredding a strong Australian attack, in only his second ODI, in the Champions Trophy in 2000.
Soon Yuvraj would become India's middle-order lynchpin, forming fruitful partnerships first with Rahul Dravid and then with MS Dhoni. Both batsmen, superb ODI operators in their own right, credited their success to Yuvraj's ability to score at will. Testament to Yuvraj's importance is that when he was dropped from the ODI side in 2010, it was the first such occurrence since he cemented his place in the Indian team. While his ODI career is full of highlight reels, perhaps the biggest impact was his contribution to India's World Twenty20 triumph in 2007, where he famously hit a Stuart Broad over for six sixes.
However, his limitations have manifested themselves in Tests, where he has struggled both against the seaming and swinging ball, and quality spin. Apart from three shining innings – a sparkling century on a Lahore greentop, another from 61 for 4 against Pakistan, and an unbeaten 85 in a successful chase of 387 in Chennai – his Test career doesn't have much to write home about.
Fast Facts
* Yuvraj Singh smashed Stuart Broad for 6 sixes in an over to become the second player after Herschelle Gibbs to achieve the feat. He did so against England in the 2007 ICC World Twenty20.
* In the same match, he registered the fastest half-century in international cricket off just 12 balls.
* In T20Is, he became the first batsman to make three fifties in 20 or less balls.
* Yuvraj became the 10th most successful ODI batting all-rounder with more than 7000 runs and 80 plus wickets.
* In ODIs, he stands 4th in the all-time list of maximum century scorers for India.
* He assisted India to the highest ODI run-chase at that time – 325 runs against England in the 2002 NatWest Trophy final.
Yuvraj Singh Batting, Fielding and Bowling


The above stats are as per date of this post.
Yuvraj Singh Career
Test:
2003-2010
ODI:
2000-2011
T20:
2007-2011
IPL:
2008-2010
Yuvraj Singh Test Matches
Debut:
India Vs New Zealand at Punjab Cricket Association Stadium, Mohali – Chandigarh – Oct 16, 2003
Last played:
India Vs Sri Lanka at Galle International Stadium, Galle – Jul 18, 2010
Yuvraj Singh ODI Matches
Debut:
India Vs Kenya at Nairobi Gymkhana Club Ground, Nairobi – Oct 03, 2000
Last played:
India Vs South Africa at Newlands, Cape Town – Jan 18, 2011
Yuvraj Singh T20 Matches
Debut:
India Vs Scotland at Kingsmead, Durban – Sep 13, 2007
Last played:
India Vs South Africa at Moses Mabhida Stadium, Durban – Jan 09, 2011
Yuvraj Singh IPL Matches
Debut:
Kings XI Punjab Vs Chennai Super Kings at Punjab Cricket Association Stadium, Mohali – Chandigarh – Apr 19, 2008
Last played:
Kings XI Punjab Vs Chennai Super Kings at Himachal Pradesh Cricket Association Stadium, Dharamsala – Apr 18, 2010
More updates about Yuvraj Singh, Yuvraj Singh profile, Yuvraj Singh biography, Yuvraj Singh history, Yuvraj Singh cricket record, Yuvraj Singh highest score, Yuvraj Singh 100s, Yuvraj Singh 50s, Yuvraj Singh fastest century, Yuvraj Singh 50, Yuvraj Singh fastest 100, Yuvraj Singh pictures, Yuvraj Singh ranking, Yuvraj Singh batting, Yuvraj Singh bowling, Yuvraj Singh fielding, Yuvraj Singh average, Yuvraj Singh wife, Yuvraj Singh family, Yuvraj Singh children, Yuvraj Singh IPL, Yuvraj Singh CLT20, Yuvraj Singh T20, Yuvraj Singh ODI, Yuvraj Singh Test will be shared soon. You can also share your comments about Yuvraj Singh.