Full name Zaheer Khan
Born October 7, 1978, Shrirampur, Maharashtra
Current age 32 years 104 days
Playing role Bowler
Batting style Right-hand bat
Bowling style Left-arm fast-medium
Zaheer Khan Picture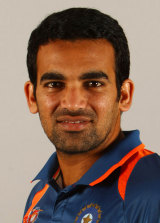 Major teams India, Asia XI, Asia XI, Baroda, Mumbai, Mumbai Indians, Royal Challengers Bangalore, Surrey, Worcestershire
Zaheer Khan Profile
Zaheer Khan is an Indian fast bowler with all the traits that made the Pakistani fast bowlers a phenomenon. He swings the new ball and reverses the old, he does well on flat subcontinent pitches and relishes the helpful ones away, and he controls all three balls well – SG, Duke and Kookaburra. He might not quite have the skills of Wasim Akram, who he has often been compared to, but mentally Zaheer has become as good as Akram. He knows how to get wickets, he has an intuitive sense of when to go for the kill, and once a batsman has shown him the slightest hint of a weakness, Zaheer preys on it ruthlessly. Unlike the Pakistan fast bowlers of the 2000s, though, he stays away from controversy and is pretty low-key off the field.
Zaheer's career can be easily divided into three distinct sections, neatly segregated by injuries. He was all promise ever since he bowled Steve Waugh with a low full toss in the Champions Trophy in 2000. A mysterious injury in Australia in 2003-04 – hamstring at first and later discovered to be a nerve twitch – then tortured him for the best part of the next two years, during which he could not sort out the true nature of the injury. Every comeback ended in a frustrating setback through a new injury.
In 2006, though, Zaheer, now with a shorter run, a fitter body and a meaner mind, dazzled England with 78 wickets for Worcestershire, where team-mates started calling him Zippy Zakky. He was the perfect foil for Sreesanth in South Africa, and he then regained his status as leader of the pack with a matchwinning display at Trent Bridge, as India won only their fifth Test on English soil. The new, lethal Zaheer was not only the leader of the Indian attack, he was one of the best in the world. Already the second-most successful Indian pace bowler, if Zaheer keeps injuries at bay, he could end up as India's most complete fast bowler of all time.
Fast Facts
* Zaheer Khan was named Wisden Cricketer of the Year in 2008.
* He is India's most successful left-arm seamer and the third most successful in the World.
* In Tests, he is India's most successful fast bowler after Kapil Dev.
* Zaheer became the third Indian bowler to take more than 150 Test wickets outside India.
* He was India's highest wicket taker in the 2003 ICC World Cup.
* In county cricket, he became the first Worcestershire player to take 10 wickets in a match on debut for over 100 years.
* He was the highest wicket-taker in 2007, picking up an astonishing 81 scalps in Tests and ODIs combined.
* As of December 2010, his 75 against Bangladesh in 2004 was the highest Test score by a number 11 batsman.
* Against Australia in 2008, Zaheer became the third Indian after Rusi Surti and Kapil Dev to score a half century and take five wickets in an innings in the same match.
Zaheer Khan Batting, Fielding and Bowling


The above stats are as per date of this post.
Zaheer Khan Career
Test:
2000-2011
ODI:
2000-2011
T20:
2006-2010
IPL:
2008-2010
CLT20:
2010-2010
Zaheer Khan Test Matches
Debut:
India Vs Bangladesh at Bangabandhu National Stadium, Dhaka – Nov 10, 2000
Last played:
India Vs South Africa at Newlands, Cape Town – Jan 02, 2011
Zaheer Khan ODI Matches
Debut:
India Vs Kenya at Nairobi Gymkhana Club Ground, Nairobi – Oct 03, 2000
Last played:
India Vs South Africa at Newlands, Cape Town – Jan 18, 2011
Zaheer Khan T20 Matches
Debut:
India Vs South Africa at New Wanderers Stadium, Johannesburg – Dec 01, 2006
Last played:
India Vs West Indies at Kensington Oval, Bridgetown, Barbados – May 09, 2010
Zaheer Khan IPL Matches
Debut:
Royal Challengers Bangalore Vs Kolkata Knight Riders at M. Chinnaswamy Stadium, Bangalore – Karnataka – Apr 18, 2008
Last played:
Mumbai Indians Vs Chennai Super Kings at Dr DY Patil Sports Academy, Mumbai – Apr 25, 2010
Zaheer Khan CLT20 Matches
Debut:
Mumbai Indians Vs Highveld Lions at New Wanderers Stadium, Johannesburg – Sep 10, 2010
Last played:
Mumbai Indians Vs Royal Challengers Bangalore at Kingsmead, Durban – Sep 19, 2010
More updates about Zaheer Khan, Zaheer Khan profile, Zaheer Khan biography, Zaheer Khan history, Zaheer Khan cricket record, Zaheer Khan highest score, Zaheer Khan 100s, Zaheer Khan 50s, Zaheer Khan fastest century, Zaheer Khan 50, Zaheer Khan fastest 100, Zaheer Khan pictures, Zaheer Khan ranking, Zaheer Khan batting, Zaheer Khan bowling, Zaheer Khan fielding, Zaheer Khan average, Zaheer Khan wife, Zaheer Khan family, Zaheer Khan children, Zaheer Khan IPL, Zaheer Khan CLT20, Zaheer Khan T20, Zaheer Khan ODI, Zaheer Khan Test will be shared soon. You can also share your comments about Zaheer Khan.